Posted on
Sat, Mar 9, 2013 : 2 p.m.
CBS' 60 Minutes to feature St. Joseph Mercy Hospital in Sunday episode on fungal meningitis outbreak
By Amy Biolchini
St. Joseph Mercy Hospital in Superior Township will be featured in an episode of CBS' 60 Minutes this Sunday as a part of an investigative series into a deadly fungal meningitis outbreak.
Forty-eight deaths -- 13 of which are of Michigan residents and four of which are from Washtenaw County -- are linked to batches of injectable steroids contaminated with fungus from the New England Compounding Center in Framingham, Mass.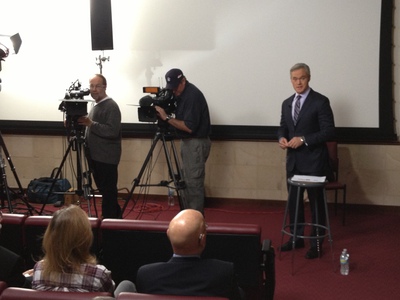 Courtesy of St. Joseph Mercy Ann Arbor
The steroids were distributed across the country last summer. By that fall, hundreds of patients that had received injections of the steroid in their back and joints for pain relief were presenting with rare forms of meningitis.
In Michigan, four facilities received shipments of the steroids. As the outbreak has unfolded, Michigan has had the highest concentration of fungal meningitis patients in the country: 253 cases to date, out of a total of 720 reported in the U.S., according to the Centers for Disease Control and Prevention.
The closest to the Ann Arbor area was Michigan Pain Specialists in Brighton.
St. Joseph Mercy Ann Arbor quickly became the epicenter for treating fungal meningitis patients in Michigan. Additional staff was called in from affiliated hospitals and a ward of patient rooms was opened to accommodate the constantly fluctuating patient population.
"There has been a great deal of media attention due to the large number of patients in Michigan who have been affected and the central role that St. Joseph Mercy Ann Arbor physicians, clinicians and staff have played in caring for this population. We are very proud of the response and commitment St. Joseph Mercy Ann Arbor has had to this community public health disaster and continue to treat these patients as they work to recover from this," said Michele Szczypka, regional chief marketing officer for Saint Joseph Mercy Health System, in a statement.
The 60 Minutes segment interviews patients and their families living with fungal meningitis that have been receiving treatment at the Ann Arbor hospital over a two-day period in February.
Scott Pelley of 60 Minutes also interviewed a former lab technician at the compounding company under fire in the outbreak who is speaking out for the first time.
"Lethal Medicine" will air 7 p.m. EST Sunday on CBS.
Amy Biolchini covers Washtenaw County, health and environmental issues for AnnArbor.com. Reach her at (734) 623-2552, amybiolchini@annarbor.com or on Twitter.