Posted on
Sat, Jan 14, 2012 : 5:57 a.m.
Celebrating MLK Day: Union members honor civil rights leader with volunteer work
By Danny Shaw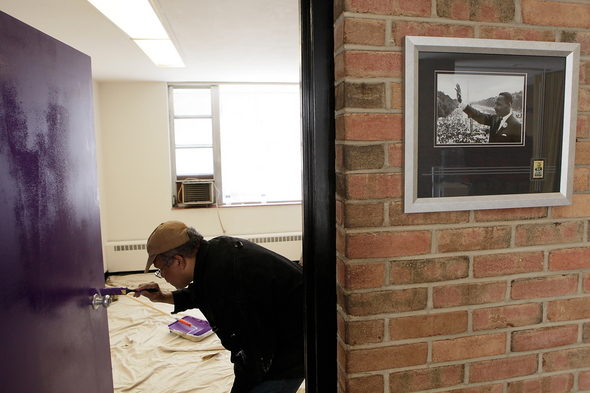 Chris Asadian | AnnArbor.com
While area residents
plan their celebrations
for
Martin Luther King Jr. Day
this Monday, some are getting a jump on honoring the civil-rights leader.
Twenty-five labor union members eager to work surprised the Rev. Yolanda Whiten, executive director of the Ann Arbor Community Center, on Friday morning.
The group worked at the center through the afternoon painting the interior.
"It is amazing," Whiten said. "It's thousands of dollars worth of work that they are doing for free."
The labor union members offered their services to various non-profit businesses as a part of the American Federation of Labor and Congress of Industrial Organization's annual Dr. Martin Luther King Jr. Holiday Observance and National Conference.
That's one effort encouraging people to use MLK Day as a day of volunteering and community service.
The conference, which continues through Monday, is one of many events occurring this weekend in celebration of Martin Luther King Jr. Day.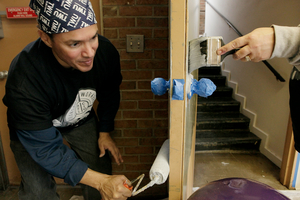 Chris Asadian | AnnArbor.com
The University of Michigan has several events planned as part of the annual MLK Symposium. The day-long celebration features a keynote by Michele Norris, an NPR radio host and previous ABC News correspondent, among other events.
Also on Monday, the main branch of the Ann Arbor District Library is hosting Celebrate Dr. Martin Luther King, Jr.'s Birthday with Poetry event. Visitors of all ages can join Jeff Kass, Neutral Zone's literary arts director, for a poetry program on civil rights, equality, peace and justice. The hour-long event starts at 2 p.m.
The Ypsilanti Public Library is offering events Monday for the entire family at the Michigan Avenue branch 1 p.m. to 3 p.m. and at the Whittaker Road branch 5:30 p.m. to 8:30 p.m. Visitors can expect live music, documentaries and crafts all geared toward celebrating diversity.
For a complete list of Monday's events, click here.
Contact reporter Danny Shaw at 734-623-2544 or dannyshaw@annarbor.com. Elizabeth Edwards contributed to this article.