Posted on
Sun, May 19, 2013 : 5:59 a.m.
Using their superhero powers for good: U-M football alums raise money for developments at C.S. Mott Hospital
By Amy Biolchini
For C.S. Mott Children's Hospital, money raised from the three-day Champions for Children's Hearts charity event that drew a slew of University of Michigan football alumni and other former athletes back to Ann Arbor this weekend fills a critical void.
Proceeds from the event, which reached $1.2 million last year, are used to fund life-saving research developments in Mott's Michigan Congenital Heart Center and for highly-specialized training that the hospital would otherwise not be able to fund.
"We should be proud that many donors stepped up to the plate … so we can sustain programs that really put us on the national stage," said Dr. Valerie Castle, chairwoman of the University of Michigan Health System's Department of Pediatrics and Communicable Diseases.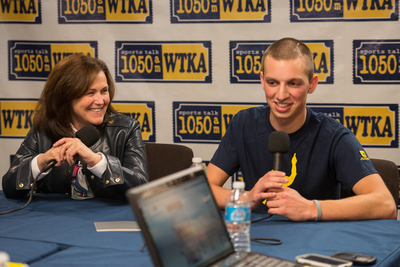 Courtney Sacco I AnnArbor.com
Government funding - the largest source of research dollars outside of philanthropy - is drying up, hospital officials say.
"If we can't do this, advances will stop," said Dr. John Charpie, division director of pediatric cardiology at the Congenital Heart Center and co-founder of the event.
A number of life-saving research efforts are under way at Mott — many of which are minimally invasive procedures intended to improve the life-long outcomes of children who need heart surgery.
However, they're often so specialized that medical companies don't find them to be a good business investment to manufacture the tiny valves and catheters needed for the procedures, Charpie said.
"It's not always financially intelligent to make a device small enough for a baby," Charpie said. "I think to some degree that's changing … but there's no incentive for any company to get into this business … so then it's up to us to push these technologies forward."
As the field of pediatric cardiology has progressed, advancing technology has been able to improve the survival rate of patients from 50 percent about 50 years ago to 95 percent today, Charpie said.
Now, doctors are focused on finding ways to improve the life-long outcomes for patients who had intense heart surgeries at a young age.
"As these patients grow up, it's important that we focus on quality of life issues so that we improve outcomes for these children and young adults," Charpie said. "We know there are long-term problems."
Children with heart disease have a higher incidence of behavioral abnormalities that are often autistic-like, Charpie said.
Throughout the past five years, about $1 million from the charity event has been invested in advanced-level specialty training for fellows at Mott that are otherwise not supported by general funds, Charpie said.
"It's absolutely incredible, from my perspective," Charpie said. "The partnership with athletics is mutually beneficial. … I've seen the smiles on the faces of the children, and I've also seen what it's meant to the athletes. It brings them a tremendous amount of personal reward."
For the athletes that choose to be a part of the weekend-long fundraiser, the smiles on the children's faces at the hospital are the overriding reason they dedicate time to helping raise money.
Courtney Sacco I AnnArbor.com
Hosted by the backbone of the 1997 championship U-M football team -
Brian Griese
,
Steve Hutchinson
and
Charles Woodson
- the Champions for Children's Hearts fundraiser consists of a Friday radio-a-thon, a Saturday gala and a Sunday golf outing.
The "Mott Takeover" radio-a-thon broadcast across the state on sports talk WTKA and featured former U-M football players reuniting to share stories and encouraging people to support Mott.
During the 11-hour radio event Friday, $91,000 in donations were pledged to the cause. The Saturday gala requires a $1,000 minimum buy-in for two tickets to the dinner at the Al Glick Field House, though sponsorship options are available up to $100,000.
Woodson said on-air during the radio event that having two children of his own has really put the good work Mott does in perspective for him.
"Everyone knows someone -- whether it's a neighbor or a sister or a brother that has a child that is affected by something that is not allowing them to fulfill their early childhood dreams," Woodson said. "That's why all of us are here; that's why we come back."
This year, the proceeds from the event will be divided almost equally between the Congenital Heart Center and the Charles Woodson Research Fund.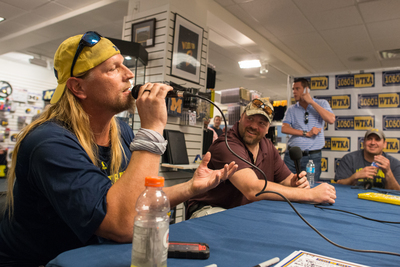 Courtney Sacco I AnnArbor.com
The Charles Woodson Research Fund is used across the university for physician-scientists and research investigators who work on early childhood diseases.
The presence of the star athletes at the event inspire other people to donate, often attracting many new donors to give money, Castle said.
"This is our signature charity event that we've been doing for Mott," Castle said. "It's brought many donors in to the university that didn't previously have a relationship with us, and expanded on relationships of other donors in the university to children's health."
In the early years of the event, all the proceeds went to funding the construction of the new Mott, which opened to patients in December 2011.
"Philanthropy was critical to getting that children's hospital," Castle said.
The fundraising was able to meet the philanthropy goal of $75 million for the capital project, which was in part due to a gift of $25 million from the Charles Stewart Mott Foundation and a donation of $15 million from Gwen (Von Voigtlander) Haggerty.
In the past six years, nearly $5 million has been raised during the event.
Jeff Del Verne, a former walk-on kicker to the U-M football team in 1999, said he realized how much of a difference the charity event made in the construction of the hospital after his son was admitted for a brain tumor last June.
"Being in a good facility really makes a difference," Del Verne said.
After sitting next to his son's hospital bed overnight, Del Verne said he texted a message to some of the former players he knew had been involved in raising money for the hospital: "Thank you so much for all of the hard work you put in to make this all possible so my son would have a chance to live."
Amy Biolchini covers Washtenaw County, health and environmental issues for AnnArbor.com. Reach her at (734) 623-2552, amybiolchini@annarbor.com or on Twitter.