Posted on
Sun, Nov 8, 2009 : 5:54 a.m.
Ann Arbor's Hikone community center lifts chances for success
By David Jesse and Tina Reed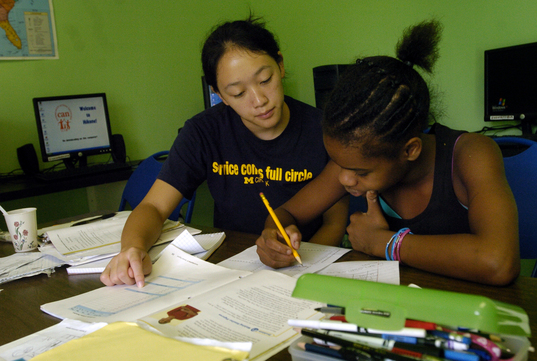 Melanie Maxwell | AnnArbor.com
Throughout the day, it's relatively quiet within the colorful walls of the community center at Hikone on Ann Arbor's southeast side.
Residents drop by from time to time to chat with the center's director, Aaron Pressel. Sometimes, they discuss problems like parking issues, difficulty getting assistance through government agencies or coming up with the money to pay that month's utility bill.
That quiet quickly ends around 3:30 p.m. nearly every weekday as the bus drops off dozens of kids from school. The center becomes a flurry of activity as students arrive, exuberant to be home from school and looking forward to an afternoon snack and hot meal. Kids talk over each other as Pressel and volunteer tutors try to wrangle them into focusing on their school work.
Reviewing math homework with one pre-teen distracted by recounting his day at school, Pressel explained the importance of paying attention to details.
"Look at this problem. You need to pay attention to the signs," he said. "What's the answer to this one?"
The center's tutoring program is one of several held at public housing community centers throughout the city. Adults at Hikone help support the effort by supplying home cooking.
The afterschool programs are aimed at pushing kids to succeed at their school work, with hopes of raising their expectations about future chances of educational and career success.
Residents say it's an important service since some teachers and others treat them and their children with lowered expectations because they live in public housing.