Posted on
Thu, Mar 29, 2012 : 7 p.m.
Ann Arbor area weighs in on statewide education reform
By Danielle Arndt
Michigan's public education system needs improvement. But still unclear is the best way to go about it.
That was the agreement among participants when the Ann Arbor/Ypsilanti Regional Chamber (A2Y) welcomed The Center for Michigan Wednesday for a 90-minute discussion on the state of preK-12 education in Michigan.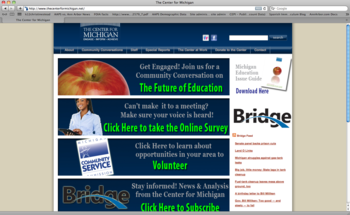 The topics ranged from whether taxpayers were receiving a good return on investment to cyber learning to parental and business community involvement in schools.
The Center led attendees through a series of questions, asking them to rate options for raising the bar on educators and for improving student learning.
In 2010, the Center launched "Michigan's Defining Moment," a public engagement campaign. Its purpose was to identify the public policy issues that resonated most with Michiganders.
Of the top 10 issues citizens identified as most important, three pertained to public education.
So for 2012, Amber Toth, outreach coordinator for the Center, said education is the sole topic of Community Conversations the Center is hosting throughout the state. The goal is to reach 5,000 people by October via small, intimate town hall meetings — limited to 25-50 people — with students, parents, teachers and employers giving input.
After the Community Conversations have wrapped up statewide, the Center will compile the data and feedback generated and analyze it, creating a citizens recommendation plan for education policy makers on what the state's "customers of education" believe they should do, Toth said.
Wednesday's event drew about 25 people, the majority of whom were past or present teachers or administrators. The school districts of Ypsilanti and Ann Arbor, the Washtenaw Intermediate School District, Washtenaw Community College and the Ann Arbor Public Schools Educational Foundation were represented.
The opening question asked attendees to grade the public education system in Michigan. Most gave it a "C." However, when asked to grade the local preK-12 programs, "A" was the most popular choice.
Everyone voted using handheld devices and the results were tabulated instantly.
Eleanor Shelton of WCC and Mary Tanenbaum of the Douglas J. Aveda Institute in Ann Arbor talked about how students are coming to their institutions for post-secondary training and lack certain necessary skills.
"That's the reason (my co-worker and I) wanted to come tonight — to learn what's going on with education in Michigan," Tanenbaum said. "We're having challenges with the students we've enrolled — behavioral and students who have graduated from high school without mastering the basics of reading and math."
According to the Center, 19 percent of Michigan high school graduates are academically ready for college, ranking Michigan 37th in the nation.
Three options were presented for increasing teacher effectiveness. They were: improving teacher preparation, providing stronger support and ongoing professional development for teachers and holding teachers more accountable for student success, such as through a pay-for-performance compensation system.
The Center states Michigan currently has the 12th-highest paid teachers in the nation, with an average teacher salary of $57,958.
Finland's education system was discussed in tandem with improving teacher preparation. According to the Center, in Finland, new teachers are required to have a master's degree.
Some state education policy makers believe making it more difficult for students to enter and complete teacher certification programs, as well as requiring a deeper mastery of subjects teachers intend to teach, would improve overall effectiveness.
While the majority of Wednesday's attendees rated improved teacher preparation as "important" to increasing effectiveness, they did not express that it was "crucial." Many said the smartest people are often the worst teachers, as they are less likely to think creatively or to deliver lessons in ways that appeal to a spectrum of learners.
Members in the audience thought continuous professional development was more crucial to creating effective teachers than accountability, citing the role that parents inadvertently play in their child's success as something teachers cannot control.
Expanding preschool and early childhood programs, changing the school calendar, reducing class sizes and increasing choice (the number of charter schools) and any-time-any-place online learning opportunities were discussed as possibilities for improving student success.
Of the five ideas above and the three ideas discussed for increasing teacher effectiveness, attendees of the A2Y chamber event were asked to select the one they thought would have the greatest impact on student learning. The majority, 44 percent, of people selected provide stronger support and ongoing professional development for teachers. The second highest response was expand early childhood programs. Reduce class sizes came in third.
According to the Center for Michigan, the ratio of K-12 students to teachers in the state is 18 to 1, ranking Michigan 43rd in the nation.
Download a copy of the Center for Michigan's "Education Issue Guide" here.
This guide contains the topics that were discussed at Wednesday's A2Y chamber event, separate learning and earning "report cards" for the state and several graphs showing how Michigan invests money in education.
Staff reporter Danielle Arndt covers K-12 education for AnnArbor.com. Follow her on Twitter @DanielleArndt or email her at daniellearndt@annarbor.com.