Posted on
Sat, Apr 30, 2011 : 2:41 p.m.
Marchers outside Michigan Stadium protest Snyder policies during U-M commencement speech
By Ronald Ahrens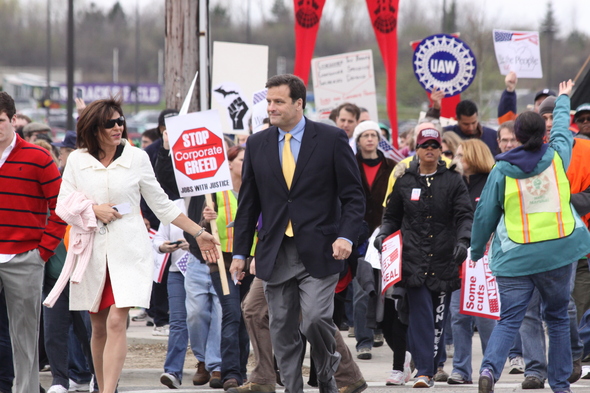 Ronald Ahrens | For AnnArbor.com
Protesters who earlier had rallied at Pioneer High School against Gov. Rick Snyder's policies moved across the street as the time for University of Commencement drew near Saturday morning.
They marched and chanted outside of Michigan Stadium as the ceremonies got under way at 10 a.m. But it wasn't enough to cause much of a distraction for the graduates or their guests or to disrupt Gov. Snyder's speech at the ceremony.
A crowd estimated at 1,000 to 1,200 by rally marshal Tad Wysor and University of Michigan Department of Public Safety officers chanted and sang throughout the 90-minute ceremony. Protesters said they are upset about the governor's tax and other policies.
"What's so cool is that almost off of them came over here, said Wysor, an Ypsilanti resident who represented the American Federation of Government Employees.
The rally had kicked off at 8 a.m. at Pioneer High School's Holloway Field, and protesters had to walk several hundred yards up South Main Street to reach the Stadium's main gate.
They chanted such slogans as "No ifs, no buts, no education cuts" and "Hey, hey, ho, ho, Rick Snyder has got to go."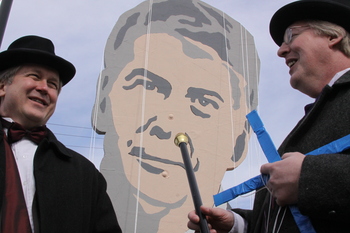 Ronald Ahrens | For AnnArbor.com
In keeping with the rhythms, participants blew whistles and clapped their hands, while further percussion was provided by at least one cowbell, one gourd and a set of ankle bells normally used in classical Indian dance.
Many motorists on Stadium Boulevard and Main Street beeped their horns as well.
"I've never protested in my life, but I won't quit till we get him recalled," said Bob Hutchins, who waved a homemade placard along with his wife Brenda.
A retired autoworker who lives in Ypsilanti, Hutchins said he hoped graduates inside the stadium went ahead with the threat to turn their backs on Snyder when he delivered his address.
"I want him booed everywhere he goes for four years," he continued. "I don't want him going anywhere without seeing me out there with a sign."
But some who attended the commencement expressed disappointment over the rally.
"I feel bad they're doing it at graduation," said Sylvia King, who came from Muskegon to see her goddaughter receive a diploma. "I agree with them, but there's a better time than at graduation. The kids have put their heart and soul into four years of college."
Hastings resident Jim Fisher, whose nephew earned a business degree, pointed out that he's a public servant—Barry County Circuit Court judge—and he dislikes "the fact that every public servant has a target on their back."
He was referring to the likelihood of a push for cuts in public employee compensation. Nevertheless, Fisher said, "The realities of the situation are going to require shared sacrifice."
As Snyder's address began, protesters were asked to come from the sidewalks along Stadium Boulevard and Main Street, where they had been marching, in order to cluster at the main gate, concentrating their decibel output.
Grant Mandarino, a U-M graduate student in art history, led one chant through a bullhorn, yelling, "Rick goes down when the people stand up."
When Snyder wrapped up his speech, rally marshals announced the protest was over and everybody should immediately return to their vehicles at Pioneer. Ann Arbor police officers stopped traffic, and the marches streamed diagonally across the intersection, reversing the impressive flow that had carried them in.
But Jack Prince lingered near the stadium's gate, expressing disgust to all who would listen.
"It was the most innocuous protest in history," said Prince, a teacher from Grand Rapids. "Right at the peak of the protest, at its loudest moment, is when they disperse the crowd."