Posted on
Fri, Mar 19, 2010 : 5:59 a.m.
Chapelle, East Middle School to be closed under proposed Ypsilanti Public Schools plan
By Tom Perkins
Ypsilanti school district administrators presented a plan Thursday that would close Chapelle Elementary and East Middle School, despite the protests of many parents who have mobilized to oppose school closures.
The district's proposal, presented at a special meeting, calls for redistributing students from the two schools and reconfiguring the grade structures at the remaining three elementary schools and West Middle School.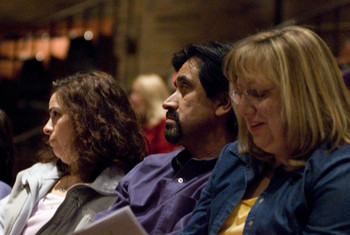 The high school would not be affected.
The board will vote on the plan at its regular meeting Monday. If approved, the district will:
Make Perry a pre-kindergarten through first grade school.
Make Adams Elementary grades K-6.
Make Estabrook and Erickson grades 2-6.
Make West Middle School grades 7-8.
Close Chapelle and East Middle School and "repurpose" those schools.
During a 30-minute slideshow presentation, Superintendent Dedrick Martin outlined what the administration considered to be the pros and cons of two options first presented to the public in January, of which the district chose the second.
Martin said efficiency and maximizing use of available space led to the proposal, which administrators estimate would save the district roughly $1.3 million. While the district's K-8 buildings are currently 64 percent full, they are projected to be at 81 percent capacity under the proposal.
The district is attempting to trim $6.4 million from its budget before the next school year.
Martin said closing Chapelle makes sense because it is the oldest building, has the lowest capacity and is less than a mile from Estabrook. Chapelle and Estabrook have capacities of roughly 375 and 550 students, respectively.
"While we don't want to close any buildings, we do have our largest capacity elementary within seven blocks of our smallest capacity elementary," Martin said.
The district listed only one disadvantage to closing Chapelle - its strong sense of community - while four to five negatives were provided for closing each of the other schools.
Among other reasons, Martin argued the district shouldn't close Estabrook because decommissioning the elementary school with the largest population would quickly fill the remaining three elementaries. He added it receives the most requests under the schools of choice program, indicating it's highly valued by the community.
Martin said Adams should remain open because of its high capacity and designation as a Science, Technology, Engineering and Math Academy with strong ties to the University of Michigan.
Adams, which is currently only half full, is projected to jump to 78 percent capacity under the proposal.
Martin added the K-6 arrangement would be a new offering and could prove attractive to parents with multiple students.
At the middle school level, Martin said keeping West Middle School open, housing grades 7-8, is advantageous instead of keeping East Middle School open because of West's proximity to the high school campus. That allows higher achieving students to take classes at the high school.
Only Trustee Kira Berman spoke out against the proposal. She acknowledged deep cuts must be made, but said the values guiding the decision-making process were missing from the proposal.
She questioned the administrators' rationale in their decision-making and asked for supporting data on a number of points and ideas, including; placing sixth graders in elementary schools, the savings other districts have achieved by closing elementary schools, the advantages of educating students in smaller schools and the concrete plans for using taxpayer money in the repurposed buildings.
"I have difficulty as a parent, an educator and a board member just trusting that we are going in a good direction," she said. "If I don't have a positive rationale … and if the administration is unwilling to ask parents what they might do before making this decision, then I can't support their plan."
Addressing concerns about how schools of choice would be affected, Martin said the district will build off what it has learned from previous school closings. But he conceded all students wouldn't be able to attend their first choice.
"This is a challenge for us," he said. "We realize not all of our families are going to be happy."
Martin added the district enrolls a significant number of out-of-district students, but Chapelle students would be given priority.
"Under this scenario, we go to the Chapelle families first and try to get them in, then we keep our schools open for out of district kids," he said.
Several parents pointed out Estabrook is the most popular school of choice among the remaining buildings, and the district's projections listed it at 92 percent capacity. They questioned how there would be room to put their children at the school.
John Fulton, the district's executive director of human resources, said evidence from the past closing of Ardis and George elementary schools shows a rush to Estabrook wouldn't necessarily be the case.

"Back then, there was this notion they would all go to Estabrook, and they pretty much fanned out across the district," he said. "Our estimation is everybody at Chapelle will not pick Estabrook."
Several parents asked how teachers would be distributed, which district officials tied into questions on the sources of remaining $5.1 million in needed cuts.
Fulton said teachers would largely transition to different schools, but the district is hoping to achieve $2.3 million in reductions by cutting 23 teaching positions. He said the largest portion of the cuts would come at the middle and high school levels, and he's optimistic many of those would be through retirement and attrition.
"One of the things this district has been very successful at is not laying off teachers," he said. "We don't want to lay off our young teachers - if we do that, then it's minimal savings."
The district is currently in negotiations with the union for this year's contracts, but Fulton said only pay cuts are on the table.
Jason Wright, a member of the Chapelle Parent Advisory Board and Save Chapelle Community School, challenged the district on several points.
He contended the district's figure of $1.3 million in savings is misleading because it doesn't take into account the number of students who would leave the district.
"It's making closures looking better than they are," he said. "It's making it look like we will save more money than we actually are … research studies show any savings will be very short lived, and likely turning into losses."
Wright also questioned whether the district had seriously considered any alternatives other than the two options presented to the public.
In his opening presentation, Martin outlined what he said were two publicly recommended options. He said the first option was closing Perry. The second option was to close East Middle School and create 5-6 and 7-8 buildings out of Estabrook and West Middle School. Martin estimated the savings at $445,00 and $825,000, respectively.
Martin said Perry should remain open based on its "internationally renowned reputation" as a pioneering school in the head start program and its high demand. He added it's designed for early-age students, and retrofitting the facility to accommodate an older student population would be costly.
Martin said capacity issues and the building design at Estabrook to accommodate special needs students precluded considering the second option.
Wright further questioned the district's conclusions that "neighborhood schools" weren't that important because data showed only 44 percent of Chapelle students live in the neighborhood.
He said the district took the definition of a "neighborhood school" too literally.
"It's about having a small school that's responsive to parents' needs and interests," he said.
Martin underscored the two schools would not be shuttered, but would be repurposed and possibly accommodate programs, including adult education or Forest School program.
Trustee Sarah Devaney, Vice-President Linda Horne, Trustee Floyd Brumfield and Trustee Edward Jackson all spoke during board comments and made similar statements about their commitment to carefully weighing and considering the plan with due diligence.
"As elected officials we have the almost impossible task of balancing an enormous deficit," Devaney said, asking the public to keep that in mind as the board votes.
Berman said she will work with board members if they plan to vote for the cuts on Monday.
"In the meantime, you will be hearing from me because I will do my best to convince you that this plan is not strategic, and it may very well be harmful to the district," she said.
Trustee Andy Fanta was the only other board member to publicly question school closures, but he did not state his position at the special meeting.
Martin said if the plan is approved, a special meeting will be held at Chapelle to provide parents with their options in April.
Tom Perkins is a freelance writer for AnnArbor.com. Reach the news desk at news@annarbor.com or 734-623-2530.