Posted on
Tue, Jun 25, 2013 : 9:59 a.m.
Cheer-leading tryouts to be held at Ypsilanti High School today; Safe Kids Huron Valley created video about concussion safety
By AnnArbor.com Staff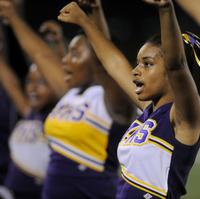 From cheer-leading tryouts at Ypsilanti Community High to a video on concussion safety produced by Safe Kids Huron Valley, here's a roundup of some of the stories posted on AnnArbor.com's Community Wall over the past few days:
By: Emma Jackson: Cheerleading Tryouts!
Cheerleading practice clinic and tryouts are next week for Ypsilanti Community High School. The practice clinic is 4-7 p.m. Monday, June 24 and the actual tryouts are 3-7 p.m.
By: Susan Garavaglia: Concussion Awareness for Young Athletes is Focus of Locally Developed Video
Visit Safe Kids Huron Valley's Facebook site for a look at the video or on YouTube: http://youtu.be/ludI46ydEr0.
By: walden: PPGV Announces ASK Day
By: Deb Kern: Affordable Puppy Pre-School Class at HSHV
By: Erin K. O'Neill: Dave Linabury Joins Ann Arbor Digital Marketing Agency as Chief Digital Officer
By: AnnArbor.com staff on behalf of Briarwood Mall: Radio Disney to help local families celebrate Briarwood Mall unveiling of new, relocated play area June 29
AnnArbor.com's Community Wall is a spot for local people to post local stories, news and announcements. To post a story, sign in to AnnArbor.com, then go to www.annarbor.com/community and use the Got News? Tell Us function at the top to submit your news. If you have a photo to add, e-mail it to us at em>community@annarbor.com, and we'll insert it into your story.