Chelsea Police Department encourages users to register to receive crime alerts
Posted on Tue, Dec 15, 2009 : 3:14 p.m.
The Chelsea Police Department is aiming to expand its new notification system.
Nixle, a free community information system, alerts users of local happenings by sending them messages via phone or e-mail.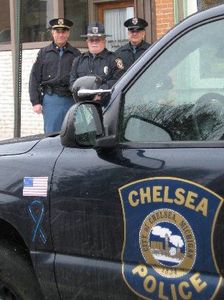 "It's kind of a real-time information sharing system," Police Chief Ed Toth said. "For a small agency, it is really beneficial to us."
The program sends users information on crime alerts, traffic closures and community events. Sgt. Mark Pulford said the system can also help the department catch criminals by sending out physical descriptions.
"We can send information out to the community, which can multiply our eyes and ears exponentially," he said in a press release.
About 450 people registered in the system when it launched earlier this fall, and Toth said he hopes to eventually have most of the community involved.
"If we could get the majority of people who reside here in the city, that would be beneficial to us and to the citizens," he said.
Users can register for the system at www.nixle.com. The police department also posts monthly crime and traffic crash reports online at www.chelseapd.org.