Posted on
Mon, Apr 22, 2013 : 5:57 a.m.
Autistic Chelsea teen nominated for state fitness award after losing weight
By Janet Miller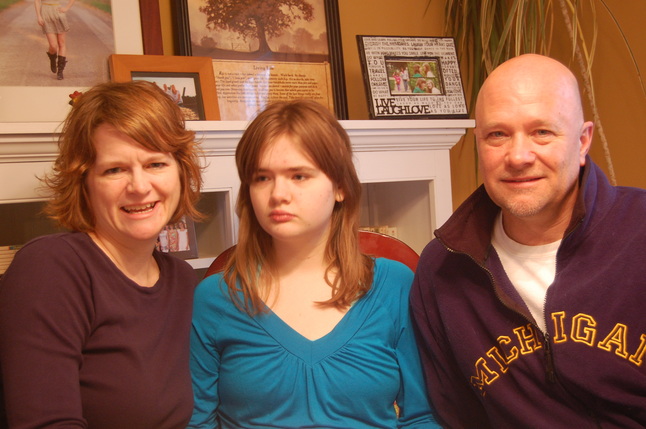 Janet Miller I For AnnArbor.com
Sophie Lash
, of Chelsea, was caught in the familiar circle of weight gain: She would over-eat, causing her to pack on pounds and making it difficult to be active in order to lose weight. By the time she was 12, she was tipping the scales at nearly 200 pounds on her 5-foot 4-inch frame.
Sophie also is a non-verbal autistic teen, unable to communicate with the world that surrounds her, which worked to complicate the situation.
By 2008, with a diet heavy in energy bars, Pop Tarts, cereal, rice cakes and microwave popcorn and a sedentary lifestyle with hours spent sitting in front of a computer watching YouTube videos, Sophie started having health issues.
"She would exceed her recommended daily caloric intake with popcorn alone," said Skip DeWall, Sophie's stepfather.
Her ankles were swollen and she rebuffed her family's efforts to get her out of the house. She'd become too heavy and too strong to be moved against her will.
But when Sophie's mother, Mary Hellner, married DeWall in 2011 things began to change. Sophie had met her match: DeWall, who participates in triathlons, was convinced Sophie could lose weight and get into shape. He began counting Sophie's calories, convinced her to eat healthier food and started an exercise program that included time on the treadmill, swimming and hiking.
"We started running laps at the track," DeWall said. "She hated it."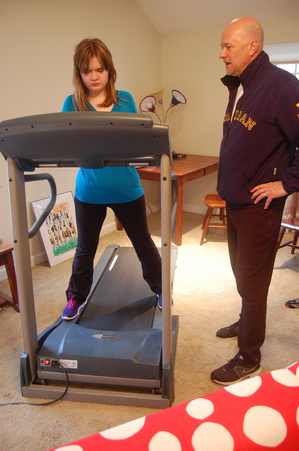 Janet Miller I For AnnArbor.com
Today, Sophie, 14, is a comfortable 132 pounds and a much happier child, her mother said. They go on family outings, the days of locking food away are over and Sophie completed the one-mile Chelsea Run for the Rolls last summer to a cheering crowd. She's also training for this year's run.
For her efforts, Sophie is one of three finalists for the Michigan Fitness Foundation Governor's Fitness Award for Conquering Obesity. She will be honored with a day in Lansing on April 25, where she'll meet Gov. Rick Snyder and visit the Senate gallery.
Obsessive-compulsive disorder frequently accompanies autism, Hellner said. Sophie would play with food, such as cereal, and then eat it.
"She was very food-motivated," she said, but Sophie would eat only a limited number of foods. At the same time, Sophie had anxiety about going out in public. As a single mom, it became difficult just to run errands, Hellner said. Sophie's weight began to balloon.
DeWall delivered tough love to Sophie's strong will: He would carry her when she refused to move. When she spit out a grape, he would put it back in her mouth, over and over until she ate at least one grape.
"There was a lot of good cop, bad cop," DeWall said. It wasn't easy for Hellner or her older daughter, Hannah, to watch Sophie struggle with the new discipline, Hellner said.
And the changes didn't come overnight, DeWall said. At first, she'd just walk to the car. Then she would walk to the sidewalk. Next, she'd walk to the corner.
"It was baby steps and every step forward was celebrated," Hellner said.
Today, Sophie enjoys hiking through the woods with her family. She runs on a nearby track with DeWall, although she still doesn't enjoy it.
"She doesn't like to run in circles. She doesn't understand why you would run around the track more than once," DeWall said.
While Sophie can't speak, she communicates in more subtle ways, with facial expressions and sounds. But she's aware of what's happening around her. When spectators began to cheer when she ran last summer's Run for the Rolls, Sophie stopped and smiled at the crowd, DeWall said.
"She knew she was being acknowledged for her accomplishment. And it made her happy. She did it on her own."