Posted on
Thu, Jul 8, 2010 : 5:40 a.m.
After 18 months of preparation, Chelsea Community Kitchen is ready to help aspiring food entrepreneurs
By Alana West
After a year and a half of preparation, the Chelsea Community Kitchen is open for business, providing aspiring food entrepreneurs in the community the ingredients to help get their businesses off the ground.
As of July 1, the organization finally has a kitchen that it can rent out at Chelsea Free Methodist Church on Werkner Road.
"We're really happy to actually have a location finally," said Bernadette Malinoski, president of the board of directors of the Chelsea Community Kitchen. "Once you actually have a kitchen you have more people know about you, and you know it is real."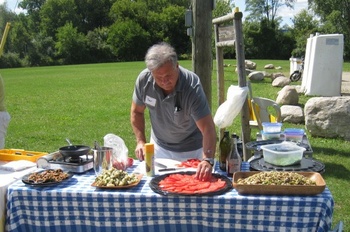 Photo by Victoria Bennett courtesy of the Chelsea Community Kitchen
The Community Kitchen was the brainchild of Victoria Bennett, who is the organization's former board president. Bennett was interested in making it easier for farmers and other small food-based business people to get their products to consumers.
"My son has food allergies (to soy and dairy), and this got me involved with local food and a lot of issues with food," Bennett said. "It led me to farmers' distribution, which is a huge question mark in southeastern Michigan. There are not a lot of avenues for them to get food to consumers directly. … If they are going to produce for the farmers market, they have to do it in a certified commercial kitchen. Lots of food businesses were having problems because even though they had professional packaging and it looks great they found out it was produced at home and, well, that's illegal."
So she looked into how a person could go about using a commercial kitchen and began getting other people interested in the idea of setting up a commercial kitchen for local producers to use.
It's been a challenging endeavor since February 2009 for the organization run only by volunteers. Malinoski said it has been frustrating to do all of the background tasks such as alerting the IRS to the charity status of the Chelsea Community Kitchen and getting zoning issues ironed out.
"It is amazing with all of the volunteer effort we have gotten as far as we have," she said.
Through the organization, community members can learn about safe food preparation, connect with those who can give advice about getting into the business of food preparation and have access to a commercial kitchen space.
"We're really trying to connect people who want to start a food-related business with people who can help them," said Malinoski. "There are many things you need to think through." She said one thing required under the process is a meeting with the Michigan Department of Agriculture, which licenses people to use a specific kitchen.
Before someone can rent the kitchen, he or she must be certified and licensed to work by taking food safety classes. This summer, the nonprofit is offering the classes. Two two-day sessions are set for July 30-31 and Aug. 27-28.
Malinoski said that the classes are offered on the weekends to give people with other jobs the opportunity to attend.
When people are certified and licensed to work in the kitchen, they can rent out the kitchen from CCK, which assigns people time slots.
"We will use under-utilized kitchen space, and we manage that (for the church)," Malinoski said. The organization also hopes to eventually use space at several kitchens in the area.
"There are a half-dozen that we will eventually look into," she said.
Items that may be made in the kitchens include catered meals, nutritional snacks, preserves like jams and jellies, cakes, cookies, ethnic foods like hummus and tabouli, and maple syrup.
The church benefits from the arrangement, too. Von Miller, a trustee at Chelsea Free Methodist Church. "We're looking forward to having the space used. It doesn't get used heavily through the week. We're happy to cooperate, and we feel like it is another outreach mission for the church, to support people in the community."
Currently, funds for the startup costs of the CCK come from local fundraisers like the Yellow Door, a volunteer group that provides a weekly fundraising breakfast and designates the CCK as a recipient of its donations. Individual funders have also contributed, and the board has been working with a group of University of Michigan law school students and their professor to get its charitable organization status.
Currently Chelsea Community Kitchen has about $9,500 to pay for things like liability insurance and upgrading kitchen equipment. Organizers hope to be able to hire a kitchen manager to help them schedule the kitchen.
"We're going to be OK, but we want money to pay a decent wage to the kitchen manager, and that is going to be tight until we get into a position to get some grants," said Malinoski.
Alana West is a freelance writer for AnnArbor.com. To reach the news desk, call 734-623-2530.