Posted on
Wed, Mar 28, 2012 : 5:55 a.m.
Backyard chickens now allowed in Chelsea
By Lisa Allmendinger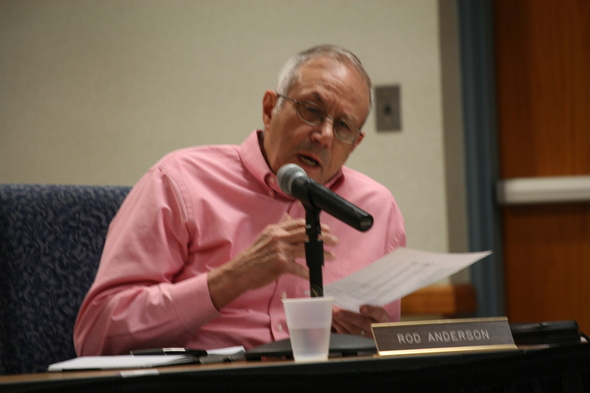 Lisa Allmendinger | AnnArbor.com
The gentle cooing of up to four backyard chickens will be legally heard at homes this spring in
Chelsea
.
With little discussion Tuesday night, the Chelsea City Council approved a new backyard chicken ordinance by a 4-2 vote, with Mayor Jason Lindauer and Council Member Rod Anderson casting no votes.
Council Member Frank Hammer as absent from the meeting. Anderson showed the council a photograph of several wild turkeys that flew into his yard Monday and reminded his colleagues of his fear about "the slippery slope" of allowing chickens in the city.
Anderson has previously stated that allowing backyard chickens will lead to requests for ducks and other farm animals.
"Chickens are coming here to roost and here's proof that turkeys are coming to roost," he said, showing everyone the enlarged photo.
The ordinance is expected to be published next Thursday and will become official 20 days later, on April 25, said Clerk Terri Royal. In the meantime, a backyard chicken application will be created and residents will soon be able to apply for a permit.
It's expected that the application form will be posted on the city's Website when available.
The permissive ordinance, which was crafted at the City Council's request by City Manager John Hanifan, allows up to four hens, but no roosters, on single-family residence properties provided home owners apply for a permit and pay a yearly fee, that's expected to be about $10.
The exact amount of the permit fee must be approved by the City Council.
Included with the application must be drawings of the chicken area, its location on the owner's property, as well as the coop's relation to neighboring properties. The chickens must be housed in a secure, well-ventilated, roofed and lockable structure and the floors and walls must be kept clean and sanitary.
The fenced enclosure must allow for more than 10 square feet per chicken and it must be at least 10 feet from the property line of an adjacent property. In addition, it cannot be closer than 40 feet to any residential structure on an adjacent property. However, this 40-foot requirement can be waved with written permission from all adjacent landowners. Other stipulations include areas constructed to prevent rats, mice and other rodents from living underneath or within the walls of the enclosure. In addition, feed must be stored in a tightly lidded container in a shed, garage or similar storage structure.
There are also regulations about the disposal of chicken waste.
Lisa Allmendinger is a regional reporter for AnnArbor.com. She can be reached at lisaallmendinger@annarbor.com. For more Chelsea stories, visit our Chelsea page.