Posted on
Wed, Apr 11, 2012 : 7:53 p.m.
Barn fire west of Ann Arbor kills more than 300 animals, including horse, steer, rabbits and chicks
By Cindy Heflin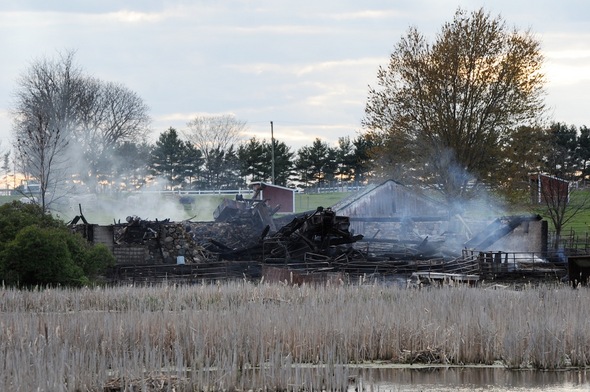 Melanie Maxwell | AnnArbor.com
Robin Welshans and other family members huddled together in the driveway Wednesday afternoon wiping away tears and ash from their faces as firefighters unrolled caution tape around the smoldering remnants of their centennial barn.
Lying heavily on their hearts was the knowledge that more than 300 animals, including rabbits, chicks, a horse and a steer, had perished in the fast-burning blaze, which reduced the barn and everything in it to a pile of rubble.
The family took comfort in the fact that at least no one was inside the barn, at Scio Church and Parker roads in Lima Township, when the fire broke out.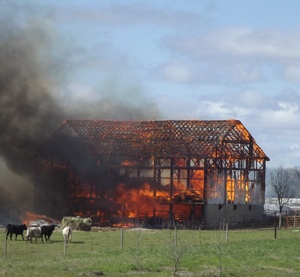 Photo courtesy of David Richard
But the loss still hurt deeply.
Douglas Welshans
said his wife met his daughters, ages 10 and 12, at school to tell them about the fire so they did not discover it when they came home on the bus. They cried, he said.
"That's their life. We don't do sports and stuff," Welshans said.
The loss is compounded by the fact that he doesn't have insurance to cover it, Welshans said. The animals and equipment alone were probably worth $50,000, he said.
Besides the steer and the horse, the fire killed about 200 rabbits, about 50 hens and 50 young chicks, Welshans said. His daughters had planned to show some of the rabbits and chickens and the steer at the Washtenaw County 4-H show this summer. The horse, a mare named Tina, was a gift to the girls from another family.
Besides the animals and barn, which was family-owned for 150 years, Welshans said he lost hay equipment as well as cages and other equipment used to show the rabbits.
The fire was reported, apparently by a neighbor, around 11 a.m. About 40 firefighters from Chelsea, Dexter, Scio Township, Manchester and Saline battled the blaze, which took about an hour to get under control, said Chelsea Fire Chief Jim Payeur. Firefighters were at the scene for about five hours, Payeur said.
"With that heavy timber construction … it's very dense material so it takes a tremendous amount of water to penetrate," he said. The cause of the fire still is under investigation, he said Wednesday evening. He didn't have a damage estimate.
As Douglas Welshans pondered the future Wednesday evening, he wasn't sure whether the family would replace the animals. "Possibly," he said. "We haven't really got to that stage yet."

View Barn fire in a larger map
AnnArbor.com reporter Danny Shaw contributed to this report.