Posted on
Thu, Mar 10, 2011 : 12:05 p.m.
Chelsea Area Fire Authority expects fire station improvement project to start next month
By Lisa Allmendinger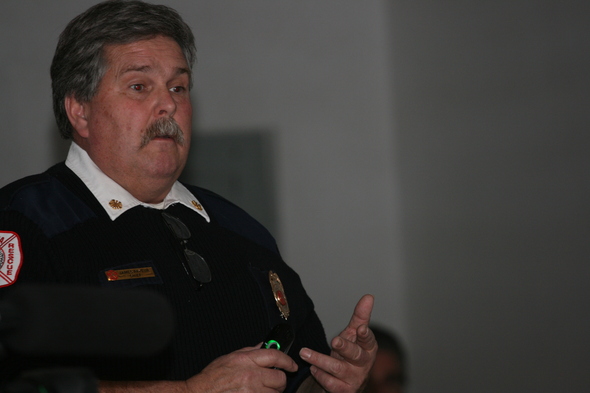 Lisa Allmendinger | AnnArbor.com
An approximately $130,000 construction project is scheduled to begin on the Chelsea Area Fire Authority station in April, and the fire authority board said it hopes Chelsea's Downtown Development Authority will help pay for additional driveway repairs and other beautification efforts.
The fire station is located at 200 W. Middle St. within the city's DDA district.
At a Chelsea City Council meeting Tuesday night, fire authority Chief Jim Payeur said the station, which was built in 1963, is slated for major renovations next month.
Included in the planned work is a new roof and exterior construction that will modernize the front of the building. A wall will also be modified on the front of the building, which faces Middle Street, to square off the building.
Payeur said that there's limited storage in the existing 4,875-square-foot building, so the fire authority stores some of its vehicles at the Chelsea Community Fairgrounds.
Currently, two fire engines, a tanker, a tower and two rescue vehicles are housed at the building. Payeur said other vehicles are kept outside or stored at the fairgrounds.
The board hired Phoenix Contractors for work on the station that will cost about $130,000 and will tap out the fire authority's building fund.
"We hope to gain more life out of this building," Payeur said. "It's hoped the work on the building will keep it viable for another 10 years."
Weather permitting, work is expected to begin April 1 and be completed by May 24.
"We are hoping for assistance from the DDA for beautification and driveway repair," Payeur said.
Chelsea City Manager John Hanifan said he'd be sure that the fire authority presentation was on the agenda for a March 17 DDA meeting.
Lisa Allmendinger is a reporter with AnnArbor.com. She can be reached at lisaallmendinger@annarbor.com. For more Chelsea stories, visit our Chelsea page.