Posted on
Fri, Apr 29, 2011 : 5:45 p.m.
Chelsea High School seniors experience sobering simulation of drunken-driving crash
By Lisa Allmendinger
Lisa Allmendinger | AnnArbor.com
With senior prom and graduation approaching, about 200 Chelsea High School seniors were given an eye-opening demonstration of what can happen during a drunken-driving accident.
Chelsea Area Fire Chief Jim Payeur reminded the students that 6,000 teens are killed in auto accidents in the United States each year and that alcohol plays a large part in those wrecks.
So, too, has distracted driving, said Fire Capt. Chris Smyth. Cell phones and texting while driving are among the top ten causes of accidents.
"Using a cell phone while driving is akin to an alcohol level of .08," he said.
And Chelsea's had its share of teen lives lost in car accidents. About nine students have lost their lives in accidents since 2000, several the result of drunken driving.
"Hopefully they'll have a safe prom and graduation," said firefighter Roger Chapman, who was instrumental in putting the special program together. "We'd rather meet them this way," than in a car crash, he said.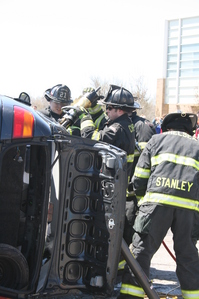 Lisa Allmendinger | AnnArbor.com
What really hit home with the students was the simulated crash scene in a nearby parking lot, complete with numerous fire trucks, ambulances, police cars and a helicopter that landed while they watched.
"This is surreal and scary," said Charlie McCalla, while looking out at the carnage in the parking lot.
Chelsea High School Principal Julie Deppner said, "The feedback I've gotten is this was very powerful. It hits close to home for a lot of these kids."
In fact, she said, several asked not to attend the simulation.
"It really shows what happens at a crash scene," said Samantha Brown.
Students were extricated from vehicles; covered in "blood," the driver of the car who caused the accident was given a sobriety test. A dead body was wrapped in a body bag before being lifted onto a gurney and wheeled away.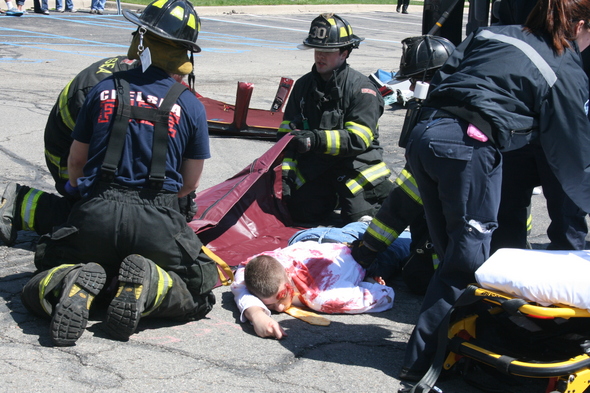 Lisa Allmendinger | AnnArbor.com
"This is crazy," said
Lauren Gray,
while her friend,
Brooke Gier
, called it "intense."
When asked if the exercise made an impression on them, the young women said it had.
"The body bag brought it home," said Joe Linteau. "Especially when there's someone in it that you know."
Tori Stevens said it was "scary to see people we know in an accident," while Natalie Kaczorowski said, "This is creepy. You can see how it (an accident) would happen and unfold."
Travis Reece, a fullback for the Michigan State football team from 1994-98, told the seniors, "You have a choice and if you know your friends have been drinking, get out of the car; live to see another day."
He said growing up in Detroit, even at 16 years old, he could walk into a liquor store and buy beer. No one carded him.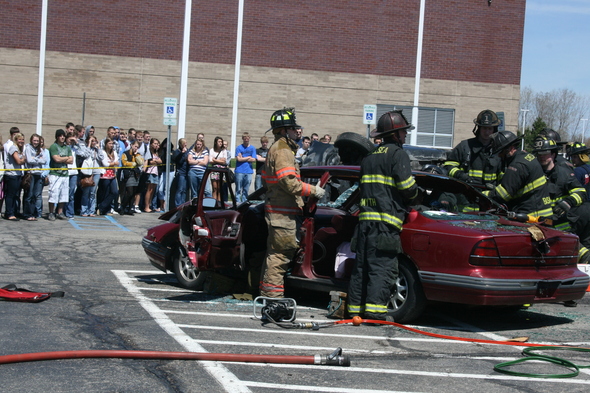 Lisa Allmendinger | AnnArbor.com
He said he drank after every football game at parties and he caused a lot of trouble, got into fights and caused an estimated $40,000 in damage before Head Football Coach Nick Saban, "took me into his office and was going to get rid of me because of all the problems I'd caused because of my drinking."
That was a turning point, he said. He changed his ways, went on to play NFL football for several teams including the Detroit Lions, and is now an advocate for Mothers Against Drunk Driving.
He told the students that a DUI would remain on their record for a long time. "It will hurt you going to college and it will hurt you getting a job," he said.
Plus, he said it will cost about $5,000.
"Chelsea, over the years, has seen a number of teen-related deaths," Payeur said. "If you get behind that wheel, you are responsible for everyone in the car."
And he knows from first-hand experience. "If these kids could see what we've seen ..." he said.
Lisa Allmendinger is a regional reporter with AnnArbor.com. She can be reached at lisaallmendinger@annarbor.com. For more Chelsea stories, visit our Chelsea page.