Posted on
Thu, Mar 17, 2011 : 4:51 p.m.
Chelsea plans celebration as National Register of Historic Places designation becomes official
By Lisa Allmendinger
Historically speaking, it's official.
The Chelsea commercial historic district has been added to the National Register of Historic Places, and a community-wide celebration is planned for May 14 at the Chelsea Depot from 2 to 5 p.m.
The State Historic Preservation Office announced the official designation in a press release today.
The district is comprised of 61 buildings and properties on both sides of Main Street. Included are properties on Park, East and West Middle, and Jackson streets, as well as the former Glazier Stove Works complex in the northeast end of the district.
Also included are the McKune Memorial Library, the former post office, several churches as well as the Chelsea House Livery Stable, the Daniels Showroom and the Mack Building, which are referred to as the Longworth Complex.
A citizens group, Preservation Chelsea, prepared the nomination information, and is actively trying to save the Longworth Complex.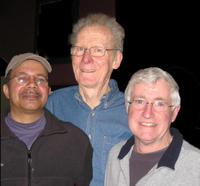 Courtesy photo
Cary Church
,
John Frank
and
Jim Myles
were credited by Preservation Chelsea member
Jan Bernath
for seeking building owner approval and compiling the extensive historic and architectural information required for the application.
The Longworth Complex is owned by the city's Downtown Development Authority and has been slated for demolition, but further action has been halted while the DDA completes a visioning plan for the downtown, with the assistance of two consultants.
According to the press release, "A national register designation gives the DDA an opportunity to market the buildings to a developer who wants to capitalize on the historic character of the buildings and use federal historic preservation tax credits."
With the designation, Chelsea has an opportunity to market itself as a heritage tourism destination and to take advantage of economic incentives for rehabilitating historic buildings, Brian Conway, a state historic preservation officer, said in the release.
There are more than 1,800 Michigan listings in the National Register of Historic Places, according to the release.
National register designation makes the owners of income-producing properties eligible to apply for federal historic preservation tax credits for the rehabilitation of those properties.
Here's more information about the National Register of Historic Places in Michigan.
For more Chelsea stories, visit our Chelsea page.