Posted on
Thu, Nov 17, 2011 : 6:22 p.m.
Chelsea site of support for 99 Percent and the Occupy Wall Street national day of protest
By Lisa Allmendinger
Lisa Allmendinger | AnnArbor.com
Colleen Verge
and
Debra Richards
of
Chelsea
were two of the expected 50 people calling themselves "99 Percent: Chelsea" and carrying signs while occupying a small section of grass at the corner of Old US-12 and M-52 Thursday afternoon to show support for the two-month anniversary of the Occupy Wall Street movement.
"We are 99 percent: Chelsea and part of a national protest day because the American dream is under fierce attack," Richards said. "We're here in support of the 99 Percenters around the country."
Occupy Wall Street is a people-powered movement that began on Sept, 17 in Liberty Square in Manhattan's Financial District, and has spread to more than 100 cities in the United States and actions in more than 1,500 cities globally, according to the website.
Richards said the group hopes that the Congressional Super Committee will start paying attention to the 99 percent of the people, not the rich 1 percent, and work to create jobs, support education, health and infrastructure."
Verge said the group is urging people to bank locally and take their money out of the "megabanks like Chase and Bank of America and put it in local credit unions and banks like the one across the street," she said, pointing to Chelsea State Bank.
"People need to get back to work," she said.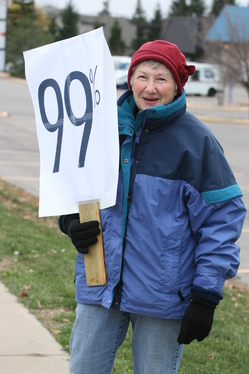 Lisa Allmendinger | Ann Arbor.com
Eileen Wright of Pinckney said she drove to Chelsea to participate because it was the only local gathering Thursday.
"I'm a retired nurse and I worked my whole life. I feel very fortunate, and to have a retirement plan, but this is for our kids and our grandkids. I'm concerned about them," she said.
According to its website, "Occupy Wall Street is fighting back against the corrosive power of major banks and multinational corporations over the democratic process and the role of Wall Street in creating an economic collapse that has caused the greatest recession in generations."
It "aims to expose how the richest 1 percent of people are writing the rules of an unfair global economy that is foreclosing on our future," the site states.
Dan Walter of Bridgewater Township said he decided to attend the protest because he didn't think "it was right that people can buy votes; that 1 percent controls Congress."
The lifelong Democrat said he and his parents retired from Ford Motor Company at a time when "You knew you had a job for life but now it's day by day."
Carol Timm drove to Chelsea from Brooklyn, Mich., and said, "We need to show (support) visibly, even in Smalltown USA, so the message will resonate better."
The group, which held a "teach-in" at the library that was attended by about 30 people, planned to occupy the space for an hour. Future events are being organized, they said. "We hope to do this on a regular basis," Richards said. "It's a vigil. A sadness. We feel our country has been hijacked."
Lisa Allmendinger is a regional reporter for AnnArbor.com. She can be reached at lisaallmendinger@annarbor.com. For more Chelsea stories, visit our Chelsea page.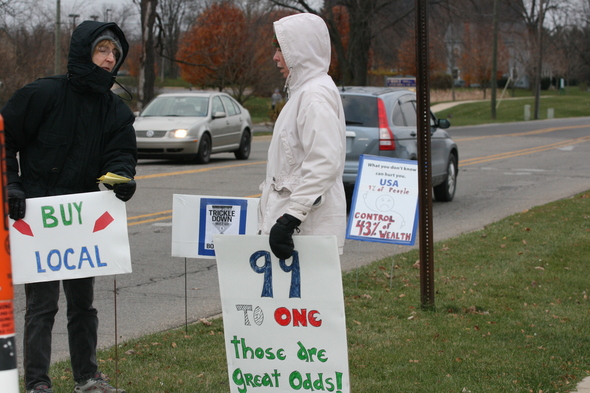 Lisa Allmendinger | AnnArbor.com