Chelsea High School students teach peers how to fend off bullies, avoid drugs and alcohol
Posted on Sat, Nov 6, 2010 : 5:30 a.m.
Learning what to do if you're bullied or put in a compromising situation with drugs or alcohol can be a vital lesson for a young person. Those are the lessons members of Chelsea High School's Students Leading Students organization teach, and they'll be demonstrating their skills this weekend at the 25th Anniversary of the S.L.S. leadership conference at Shanty Creek, where they will present a workshop for high schools across the state.
The name of the workshop is "Be a Hero Now." It will address bullying and peer pressure to drink. The Chelsea students will break up into discussions and tell stories about events that they have witnessed or actively been involved in where bullying was present.
"Our mission is to help students in Chelsea make positive choices for themselves and peers," said Chelsea High School S.L.S. adviser and social worker Bethany Morris. "We encourage the use of seat belts, being a non-distracted driver, not getting into the car with anyone under the influence, and being a positive role model for friends and peers."
S.L.S. used to be known as S.A.D.D. (Students Against Destructive Decisions.) The group changed its name to help expand the number of issues facing teens and to add a mentoring and leadership component.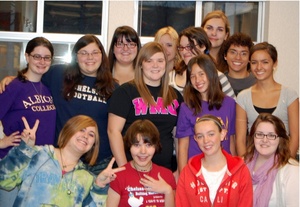 Junior Sarah Wood is one of the members of Chelsea High School's S.L.S. chapter participating in the conference. She has been a member since her freshman year.
"From the very beginning, I liked the positive environment and wanted to help other teens like myself to be healthy, safe, and productive," Wood said. "The work that we do provides students with an alternative to doing drugs, drinking alcohol and participating in other harmful activities."
The Chelsea High School chapter of S.L.S. meets every Friday morning. S.L.S. members also go into classrooms at Chelsea's Beach Middle School and teach lessons as part of the health curriculum. The group's main event is the After-Prom Party, which will take place in May at Chelsea Lanes as a substance-free event for high school students.