Chelsea's proposed budget includes no tax increases, but utility increases expected
Posted on Wed, May 9, 2012 : 5:55 a.m.
Lisa Allmendinger | AnnArbor.com

Chelsea residents can expect the same 13.15 millage rate for city operations in the coming year, but the average family of four with a three-quarter inch meter can expect to pay about $12 more per month for their utility bills.

After raising the millage rate to 14 mills in 2007 and 2008, Chelsea's millage rate has remained steady at about 13.15 mills since costs for fire protection were removed from the operating budget when voters approved a separate 1.8 mill Chelsea Area Fire Authority (CAFA) millage.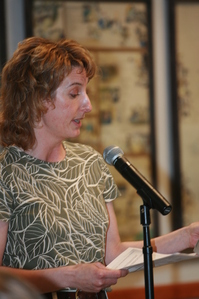 Lisa Allmendinger | AnnArbor.com
The CAFA board plans to put a 1.8 mill renewal request on the Nov. 6 ballot. If approved by voters, this would extend the millage another five years through 2018, and continue to pay for round-the-clock emergency services that include both fire and emergency medical services.
Chelsea's proposed FY12-13 millage rate for general operations is 11.2 mills, the street millage is 1.22 mills, and the solid waste millage is 0.7355.
The draft budget includes a proposed cash fund balance of $860,000. Since 2004-2005, when the city had cash reserve of just $155,000, staff has slowly been adding to the city's fund balance, which is projected to be $800,000 at the end of this fiscal year. "The city's cash fund balance remains steady due to careful planning and prioritizing of capital expenditures. We watch it very closely," said Kim Garland, the city's administrative director.
Following a public hearing on the proposed $3.9 million operating budget Tuesday night, the draft plan for utility rates includes a 3-percent increase for water and an 18-percent increase for wastewater, but no increase in electric rates.
The current cost of water and the proposed utility rate increases drew the ire of resident Jeff Blazok, who has repeatedly questioned "the exceptionally high rates for water," citing a comparison report of nearby municipalities released by Clinton, that ranks the city's rates as the third highest in the study.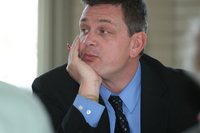 Lisa Allmendinger | Ann Arbor.com
He told the City Council he planned to print 1,000 copies of the report, add the council member's contact information, and hand them out to residents. water rate comparison.pdf
"I love Chelsea," he said, "But you are pricing people like me out of this town."
Three years ago, Garland said, the city hired a consultant to perform a utility rate study, which determined the rates that the city should charge to cover the costs of operating and maintaining the city's utilities. "I think we're doing OK from an accounting point of view," said Council Member Rod Anderson, "But why are the rates so high?"
He said he understood the city's past problems with its reverse osmosis system and the strict regulations of discharging into Lett's Creek, but he suggested that another study be conducted to answer the question, "Are we doing everything we can? The fact that we rank in the worst percentile (of surrounding municipalities for water rates) is troublesome and we owe the residents an additional level of information."
He also questioned how it could cost the same for drinking water as it does for sewer water.
City Manager John Hanifan said the city is expected to review its rates in FY 12-13.
Council Member Cheri Albertson also explained that the city had to expand the capacity of its wastewater treatment. "This was a mandate from the State of Michigan. We were at 85 percent capacity and we were told we better expand, and this, of course, would affect utility rates."
The proposed wastewater commodity rate is $6.64 per 1,000 gallons with a monthly service charge of $18.60 for a 1-inch meter. The proposed water rates show a possible 3-percent increase with a commodity rate of $6.31 per 1,000 gallons, while a 1-inch meter would have a $7.64 monthly service charge.
Residents can determine what their possible new water and sewer charges would be by taking the base monthly charge, based on a resident's meter size, plus the commodity rate times the number of gallons they use.
"The city is in better shape than most municipalities, but current staff benefits are a lot less than in the past," she said, adding that at one point the city had 85 employees, and now there are 40 full-time employees.
The City Council is expected to approve the budget and set a millage at its next regular meeting on May 22, and if approved, the new utility rates will go into effect on July 1 and will be reflected on resident's August bills.