Posted on
Sun, Feb 10, 2013 : 7:02 a.m.
Cleary's Pub in Chelsea reopens after week-long renovations
By Lisa Carolin
Cleary's Pub is open again in Chelsea after undergoing a quick but noticeable renovation this week.
The 22-year-old downtown pub has been rejuvenated and is sporting a whole new look from the floor to the bar.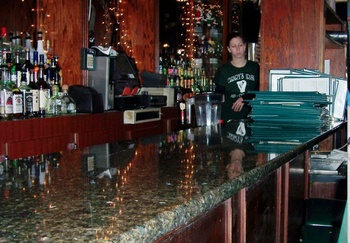 Lisa Carolin | For AnnArbor.com
According to co-owner Meg Boomer, "We gutted out the building and redid the front face."
The pub closed on Sunday, February 3, when workers began the challenging task of replacing carpeting, wood floors, building some new walls and putting in a new bar, just to name a few of the changes that the owners set out to do in less than a week's time.
The purpose: "We've been here over 20 years and it was time to freshen it up," said Boomer.
Additional changes include moving the front door, installing new lighting, adding new booths and buying new chairs.
"We're still putting the finishing touches on it," said Joan Cleary, one of the pub's co-owners, who was referring to putting up some wood on a back wall and hanging pictures. "We wanted to spruce things up."
She did not give a cost estimate for the work.
Customers on Saturday were being treated to all the aesthetic changes along with entertainment in the evening from musician Tommy Foster. The pub's menu - which includes burgers and sandwiches - remains the same, along with the restaurant's signature selection of draft beers.
Cleary's, which is located at 113 S. Main St. in downtown Chelsea, was established in 1991 and is still owned by its founders, siblings Patrick Cleary, Joan Cleary and Boomer.