Ever wonder what ham radio operators do? Saturday's your chance to find out
Posted on Fri, Jun 22, 2012 : 4:34 p.m.
The Chelsea Amateur Radio Club will participate in the Association for Amateur Radio field day at Palmer Auto Service on Main Street in downtown Chelsea beginning around 2 p.m. Saturday.
The group played an important part in communications during the recent EF-3 tornado in Dexter, said Jeff Cowall from Lyndon Township, a ham radio operator, via an email.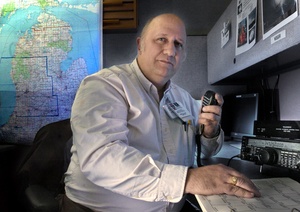 Grand Rapids Press file photo
This event is a chance for people who might be interested in ham radio operations to learn more about what these volunteers do.
A field day is a contest, emergency preparedness exercise and a public relations demonstration, according to the club's website.
The ham radio operators will erect a portable antenna tower with antennas, transceivers, and a desktop server computer with four wireless network laptop logging computers and two generators for communications power.
Points are awarded for making radio contacts and exchanging contact information with other Amateur Radio stations participating in the 24-hour Field Day event, according to the club's website.
At the end of the event, the contact information is sent to the Association for Amateur Radio Relay League (ARRL). The league then compares all the participating station logs and compiles the matching contacts into points and awards the high point stations.
Club members encourage people to stop by and learn more about ham radio and how they assist the community during emergency operations.
For more Chelsea stories, visit our Chelsea page.