Posted on
Mon, Feb 6, 2012 : 3:20 p.m.
Fire destroys workshop in Freedom Township
By Lisa Allmendinger
Lisa Allmendinger | AnnArbor.com
A fast-burning fire destroyed a workshop on Fletcher Road in Freedom Township Monday.
About 25 firefighters from three departments extinguished the blaze in the 2600 block of Fletcher Road and prevented it from spreading to the nearby house. Heat from the blaze cracked windows in the house, firefighters said.
Manchester Fire Chief Bill Scully, who was the first firefighter on the scene, said it was too late to save the structure when he arrived. The blaze broke out between 1 and 1:30 p.m.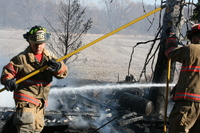 Lisa Allmendinger | AnnArbor.com
"Our biggest concern was heat to the house," said
Chelsea Area Fire Authority
Captain
Augustine Syrovy
. "He's got lots of lumber around here and the house was steaming when we arrived."
Besides the 20-by-40-foot workshop, the blaze also destroyed woodworking tools inside, firefighters said, and the workshop was reduced to rubble following the blaze.
Firefighters were still seeking the source of the blaze at 2:30 p.m. They planned to stay at the scene for a while to make sure it did not rekindle, and fire trucks from the three departments had Fletcher Road blocked off near the fire.
Firefighters from Manchester, Chelsea and Dexter battled the blaze. A damage estimate was not available and no one was injured.
HVA staff on the scene said they checked out the homeowner, but he was unharmed.
Lisa Allmendinger is a regional reporter for AnnArbor.com. She can be reached at lisaallmendinger@annarbor.com.