Posted on
Tue, Oct 30, 2012 : 12:24 p.m.
Car crashes into church after gust of wind causes driver to lose control
By John Counts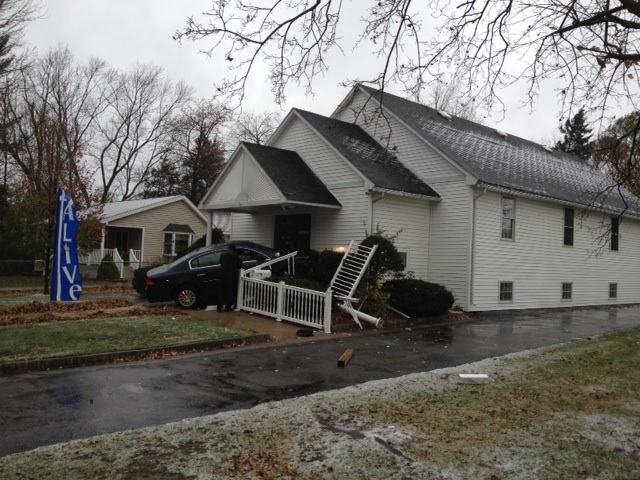 John Counts | AnnArbor.com
Editor's note: The headline of the story has been changed for clarity.
Two elderly women were trapped in a car for a short time after a gust of wind caused the driver to lose control of the vehicle and end up on the porch of a Chelsea church Tuesday morning.
The women were stuck in the vehicle until a wrecker arrived to pull the car out of the church. They were not injured.
Chelsea police Chief Ed Toth said two women he described as "senior citizens" were southbound on Wilkinson Street between West Middle Street and Old US 12 at 10:30 a.m. Tuesday when they collided with the Hope Alive Church, located at 332 Wilkinson St. Toth said driving conditions at the time were "blustery" with 30 mile per hour wind gusts related to Superstorm Sandy which pummeled the East Coast Monday.
John Counts | AnnArbor.com
"The church sustained most of the damage," Toth said.
The church's pastor, Jeff Thomas, said police told him "a squall" caught the woman driver off guard. She lost control of the vehicle, which went off the road and up a neighboring driveway narrowly missing a utility pole.
The car ran over the church's sign on the front yard and came to a rest on the stairs and porch.
The women could not get out of the vehicle until a wrecker could arrive to pull it off the church's porch. They sat in the vehicle while it was stuck on the porch for several minutes until a tow truck arrived. One of the women was helped out of the vehicle with the aid of a walker.
The women were taken away in a Chelsea police patrol car because the vehicle had substantial front-end damage and was not drivable once dislodged from the porch.
"It's amazing," Thomas said about the women escaping injury. "It's a miracle."
Thomas said police told him the women were traveling around 30-35 miles per hour. He surveyed the damage to the church soon after the vehicle was towed and said the porch's support structure was affected, but he wasn't yet sure of any monetary damages.
There was also debris from the vehicle left behind.
"There's a headlamp in my bush," he said.
Thomas was just glad no one was hurt. He said police told him the women greatly regret the accident.
"They feel real bad," Thomas said. "They shouldn't."
John Counts covers cops and courts for AnnArbor.com. He can be reached at johncounts@annarbor.com or you can follow him on Twitter.