Posted on
Mon, Jan 10, 2011 : 5:50 a.m.
Chelsea and Dexter students choosing from healthier school lunch options this year
By Lisa Carolin
Lon Horwedel | AnnArbor.com
Parents may not always have control over what their children are eating for lunch at school, but at least parents of Dexter and Chelsea students can take heart in knowing that students have more and healthier choices these days.
This year, students can choose items like specialty salads, healthy "grab and go" options like pre-wrapped peanut butter and jelly sandwiches and fruit juice. Also sugared pop and candy has been removed from the middle and high schools.
At Dexter's Mill Creek Middle School, for example, daily choices include a salad bar that offers beets, chick peas, broccoli, and dried cherries as well as cheese-filled bread sticks, bagels, low fat yogurt, bananas, apples, carrot sticks, cookies and frozen treats like sherbet and ice cream bars. Sara Simmerman, food and nutrition services director for Dexter and Chelsea school districts, said a treat now and then is OK, as long as it doesn't replace foods that meet basic nutritional needs.
Simmerman said making sure students get a balanced meal is her first priority.
"There is no one food that provides enough nutrition," she said. "A salad has protein and veggies, but no fruit or milk, for example. "Kids love Classic Pizza. It's fresh, and has protein and grain. But you have to add milk, an apple, and a vegetable to make it a balanced meal."
The changes at Chelsea and Dexter schools are similar to those that have been made in other area school districts like Ann Arbor and Ypsilanti.
Simmerman says middle school students are the toughest age group when it comes to to getting kids to eat right.
"Eating is secondary to socializing, and they like to grab things that are easy like fast food," she said.
Every day, Simmerman's schools, which also include High Point School and Honey Creek Community School at the Washtenaw Intermediate School District, offer a main entree, hot vegetable, salad bar and fruit and vegetable choices along with low-fat white and chocolate milk. The cost of a standard lunch at Mill Creek is $2.50, and parents can limit the number of a la carte items their children can buy.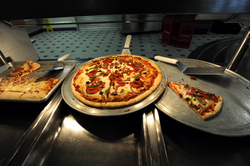 Lon Horwedel | AnnArbor.com
Gone are the days of grease-soaked French fries and chips. They're baked and are only offered as a la carte items. Lunch staples are healthier too. Macaroni and cheese is made with low-fat cheese and portioned out. Chicken patties are made with white meat and baked. Grapefruit and oranges are served in slices because they're easier for students with braces to eat.
"Students are our best and worst critics," said Simmerman, and students at Mill Creek are no exception.
Some students say there's still room for improvement. "A lot of what the cafeteria has is junk food," said seventh-grader Peter Boychuck. "The bread sticks are really good but loaded with grease."
Seventh-grader Ryan Aridi said he'd like to see more fresh food choices, and requested that Simmerman add sushi to the menu.
Simmerman said that's not an easy request to fulfill. "We don't serve anything in a raw state, and the kind of sushi that is served at some schools is not the kind that you get at a sushi bar. It's processed and has a huge list of ingredients."
Simmerman has been food services director in Dexter and for the Washtenaw Intermediate School District, which includes High Point School and Honey Creek Community School, for more than 10 years. This year, she also took on responsibility for food service in Chelsea schools.
While making cafeteria food healthier is an important step in lowering childhood obesity rates, it's only a beginning, Simmerman said. "It's not just the food we are consuming," she said. "It's what we do before and after our meals. Sugared pops and lack of exercise, even lack of exercise opportunities, are what I believe really add to the obesity rates in this nation. I ate school food, and we didn't have the list of requirements back then that we do now. But I also walked to school, had a decent recess, and couldn't stand to sit on the couch after school. We didn't have texting, video games, and the variety of TV that is prevalent today."
Simmerman likes to quote her mom whose version of nutrition in a nutshell was, "Eat your vegetables and go out and play."
Lisa Carolin is a freelance reporter for AnnArbor.com. Visit our Dexter and Chelsea pages for more stories about those communities.