Posted on
Fri, Dec 16, 2011 : 5:58 a.m.
Chelsea's Jiffy Mix employees collect toys and make holidays brighter for area children
By Lisa Allmendinger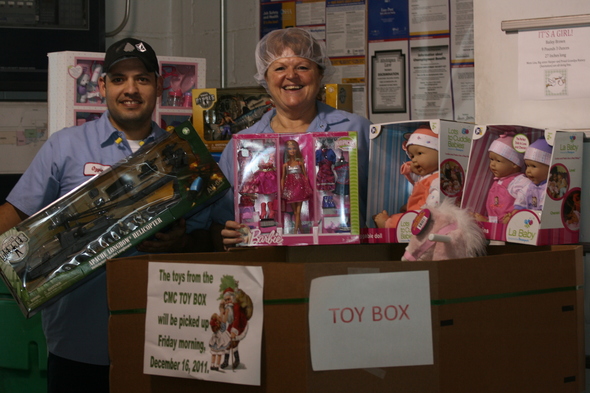 Lisa Allmendinger | AnnArbor.com
Ozzie Orochena
,
Deborah Rauh
and
Sharon Dusterhoft
are three of the about 320 employees at
Chelsea Milling Company
that makes
Jiffy Mix
who give back to families and the community not just during the holidays, but throughout the year.
Every Friday, Dusterhoft, of Milan, collects all the pop bottles and cans left by Jiffy Mix employees, takes them to a local grocery store and cashes them in. The money goes into a special bank account and when there are sales on toys, she buys them.
"I like to make the kids happy for Christmas," she said of the effort she's been involved with for the last seven years.
In fact, she's so committed to the program that when she's on vacation, co-worker Diane Johnson takes over the duties.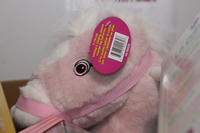 Lisa Allmendinger | AnnArbor.com
The 25-year employee at Jiffy said she's collected about 1,300 cans this year and sometimes when she walks by other employees with the cans, "Some of them call me Santa Claus."
And some of the Jiffy employees' efforts can be found near the employee break room - where there's a giant plexi-glass toy box filled with unwrapped toys. Beside it is another large container that's filled to the top with dolls and stuffed toys and games.
The employees say just walking by the containers makes them smile because they know that area children will have something special for Christmas this year.
On Friday, the toys bought by individual employees and purchased through the pop can program will go to their new homes.
"Our gang is great and they do it on their own," said Howdy Holmes, president and CEO of Chelsea Milling Company. "Each shift adopts a family and they're all wonderful about it."
Members of the "Jiffyville" family, give their time, talents and resources to people who need a hand both inside and outside their tight-knit family -- whether because of a fire, illness, lack of money or other hardship.
Orochena, of Ann Arbor, is new to the company. He's been there about a year in the packaging department, and said, "We all try to do something. We think about other people that don't have as much as we do."
Rauh of Jackson, on the other hand, has been working at Jiffy for 36 years. She said employees are always coming up with ways to help others. For instance, she said, "All the pop cans, they were making a mess, and we decided to do something good with them, so we saved them and use the money to buy gifts."
She said, "There are so many children who have nothing. We're fortunate to have jobs and to be able to help."
Orochena agreed, saying that all the employees who participated did so because they wanted to help others, not just at the holidays but throughout the year.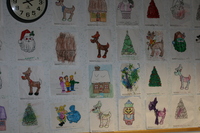 Lisa Allmendinger | AnnArbor.com
In addition, employees give children pages to color, which are collected and hung up in the employee break room. The children's artwork is rewarded by a letter from Santa and a gift card.
Jiffy has given to charities including Faith in Action, Toys for Tots and Teens and The Salvation Army over the years.
Jiffy Sweatshirts have been bought and donated to the John George Home for Men in Jackson, while Big Brothers, Relay for Life and Adopt A Family programs also are part of the giving spirit of the Jiffy employees.
Chelsea Milling Company has been a family-owned business in Chelsea for more than 100 years and is one of the city's biggest employers.
Lisa Allmendinger is a regional reporter for AnnArbor.com. She can be reached at lisaallmendinger@annarbor.com. For more Chelsea stories, visit our Chelsea page.