Posted on
Fri, Jun 14, 2013 : 3:06 p.m.
Jiffy Mix maker preparing $35M facelift and expansion for Chelsea plant
By Ben Freed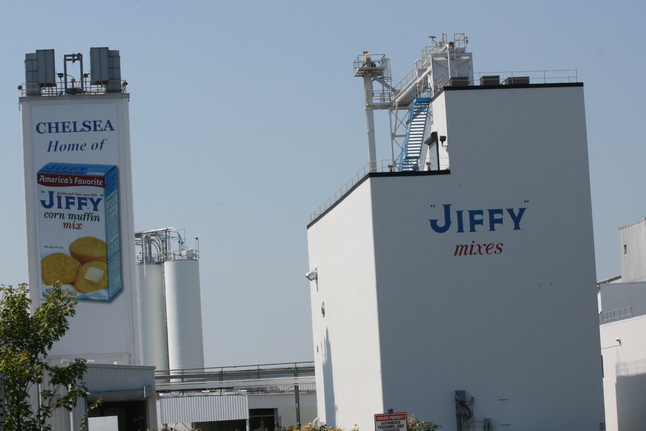 Lisa Allmendinger | AnnArbor.com
Business has been booming at
Chelsea Milling Company
— the makers of
Jiffy Mix
— since the company
entered the food service and institutional markets
nearly six years ago.
With increased production needs and an aging workforce, the company is preparing to begin a number of new construction projects and an overhaul of its facilities that will cost approximately $35 million.
Plans for nine new grain silos and a new flour transfer building were approved by the City of Chelsea Planning Commission on May 21. CEO Howdy Holmes said the nine silos will quadruple the company's grain storage capacity and are part of a broader plan.
"From our standpoint, the big picture is that we're significantly increasing our production capacity," he said.
"There will be new mixing departments, new food service packaging lines, and automatic bagging machines. The entire supply chain so to speak, and I use those words because we're vertically integrated and we do pretty much everything right here."
The expansion, which Holmes said will take place during the next 5 to 7 years, drastically could expand the company's manufacturing ability.
"We are prepared to enhance our facilities to move from producing 120 million pounds per month to approximately 360-400 million pounds," Holmes said.
"Will we need all of that capacity immediately? No. We need new facilities to meet the demand that what we can already see, but the theory is we can see the tip of the iceberg and we're planning on the entire iceberg."
Janet Miller | For AnnArbor.com
Despite the rapid expansion plans, Holmes said his company will be shrinking their employment levels as the new pieces in the supply chain come onto the line. The initial reason for lower staffing levels will be a wave of retirements the company has been seeing on the horizon for a number of years.
"We have 163 out of 306 employees who are 50 or older," Holmes said.
"Several of our employees who were looking at retirement over the last 5 years had 401(k)s, and then in 2008 your 401(k) becomes a 201(k) and the requirement for financial stability in retirement changed."
As the retirements occur, new hiring will occur at a slower pace and will be focused on highly-skilled tradespeople who have expertise working with newer machinery.
"As [our employment base] shrinks, we will bring in technology," Holmes said.
"We're not displacing people, but that technology will enhance our capacity and do the work of several machines we currently have. We will continue to hire, but the people we will be hiring will be working with equipment that is significantly different than the equipment we have now. The skill set is going to be different."
Holmes said the company operates 18 retail-packaging lines and each requires the equivalent of one and a half employees to staff. New machines brought in throughout the next five years will be able to replace four packaging lines each, only require one person to operate, and take up a tenth of the space of the old machines.
As machines are replaced and some staff retires, Holmes said he expects staffing levels to stabilize at about 250 full-time employees. He said the company's decision to wait before modernizing the plants was a conscious one.
"In the simplest sense we have made the decision that every company needs to make. We are changing to be competitive to the market place," he said. "The difference is we are not eliminating jobs to make way for the new technology."
Holmes is the grandson of Mabel White Holmes, who first created Jiffy Mix in 1930. He said the fact that the company has remained family owned and operated gave him the leeway to delay the changes that might have been accelerated by pressures from shareholders or an outside board of directors.
"That's part of a function of being a privately-held company," he said.
"There's an enhanced appreciation for our people. I think that it is different and we're real comfortable with that decisions we've made. Honestly it's the right thing to do."
Ben Freed covers business for AnnArbor.com. You can sign up here to receive Business Review updates every week. Get in touch with Ben at 734-623-2528 or email him at benfreed@annarbor.com. Follow him on twitter @BFreedinA2