Posted on
Sat, Jun 8, 2013 : 2:59 p.m.
Local farmers markets encourage people of all incomes to shop
By Lisa Carolin
Lisa Carolin | For AnnArbor.com
On a lovely Saturday morning in June, a visit to one of the many local farmers' markets in Washtenaw County has become a popular activity, no matter what your income.
This is the first full season that shoppers at the Chelsea Farmers' Market have the opportunity to use Michigan's Bridge Cards, which can be exchanged at the market for tokens to purchase food items. Bridge Cards offer food assistance using an electronic benefits transfer system.
The program began in August 2012 at the Chelsea Farmer's Market. Ashley Miller Helmholdt, who is the new manager of both farmers' markets in Chelsea, the Saturday market and the Wednesday Bushel Basket Market at Chelsea Hospital, says that although not many people are using the Bridge Cards at the Chelsea markets, she expects the number to grow.
"We hope to increase the number of participants in the program to 140 residents in and around Chelsea by the end of the market season (in October)," said Miller Helmholdt.
In addition, she said, both Chelsea markets will be offering the Double Up Food Bucks program beginning in July, which is run through the Ann Arbor-based Fair Food Network and doubles customers' purchasing power.
According to the U.S. census, 8.1 percentage of the people in Chelsea, or about 400 people, live below the poverty line and are eligible for food assistance. Miller Helmholdt says 200 people in Chelsea have Bridge Cards, and close to 1,000 have them in western Washtenaw County.
"I don't know that people know about (the market accepting Bridge Cards,)" said Deb Lentz, co-owner of Tantré Farm. While Lentz runs their stand at the Chelsea Farmers' Market, her husband, Richard Andres runs their stand at the Ann Arbor Farmers' Market.
"My husband says the Bridge Cards are used a lot at the Ann Arbor Farmers' Market. People may be uncomfortable using them here, but it's a great way to get fresh produce and to make healthy choices."
"I wish more people took advantage of the Bridge Cards," said Linda Conrad, owner of Mama Mo, which sells hummus, seitan and pesto. "I think it's a matter of educating the public what's available at the market and reassuring them this is a welcoming environment."
All the farmers markets in Washtenaw County have expanded their mission from just selling fresh foods to making sure everyone of all incomes has access to it. That includes the Ann Arbor, Ann Arbor Westside, Dexter, Saline, and both the Ypsilanti Downtown and Depot Town farmers' markets, as well as both Chelsea farmers' markets.
Both Chelsea markets received a grant through the Chelsea Wellness Foundation to support the program, and the grant also pays for food education and Miller Helmholdt's salary.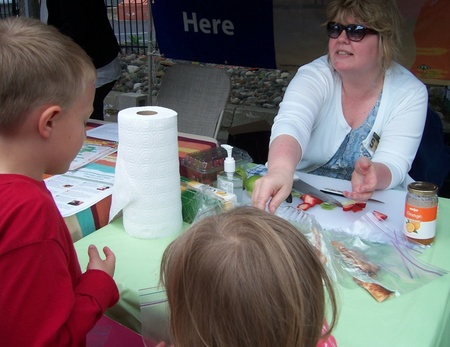 Lisa Carolin | For AnnArbor.com
Customers who qualify can use the Bridge Card, also known as (SNAP) Supplemental Nutrition Assistance Program, at the markets by showing their cards, determining how much they'd like to spend, and receiving tokens equal to that amount that can be spent to purchase food products at participating vendors.
"SNAP reduces food insecurity for low-income children, helping students perform better in school, and farmers markets provide some of the most nutritious and fresh foods available," said Miller Helmholdt, who says that the Western Washtenaw Area Value Express (WAVE) bus service will offer free rides to Bridge Card holders on the way to the market from July-October.
The Chelsea Farmers' Market has 19 weekly vendors and a number of additional vendors who show up from week to week. In addition, the market features live music every Saturday and occasional educational food-related demonstrations. On Saturday, the Washtenaw County Michigan State University Extension demonstrated making strawberry salsa and healthy pesto as examples of ways to extend the spring harvest.
Get more information on the Supplemental Nutrition Assistance Program.