Posted on
Mon, Apr 16, 2012 : 6:05 p.m.
Lima Township barn fire: Family gets new bunny and help with cleanup efforts
By Lisa Allmendinger
Lisa Allmendinger | AnnArbor.com
Sisters Madison and Bailey Welshans are back at home and have a new pet show rabbit just days after a fast-moving fire destroyed a large barn on the Lima Township family farm last Wednesday.
The girls stayed with friends in the days following the fire, which killed more than 300 animals, as parents Douglas and Robin Welshans began the long process of cleaning up.
The girls arrived home Saturday afternoon to find a group of about 16 volunteers - family, friends and strangers - clearing rubble from the site of the fire. In fact, the girls said, they pitched in, moving rocks and other debris as part of the group.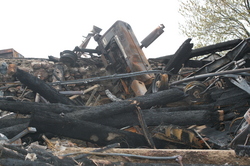 Lisa Allmendinger | AnnArbor.com
The girls also were surprised over the weekend by the arrival of Carly, a black Mini Rex show rabbit, a gift from an American Rabbit Breeders Association judge. They also have three new fish in a tank in the living room.
The girls lost all of their show rabbits and chickens, about 300 small animals in total, as well as a steer, and a horse in the fire. The family farm is about 150 years old.
And although the new little bunny can never replace Pumpkin, Frosty, or Skittles, a few of the bunnies that perished in the blaze, Carly's arrival did put a smile on the girls' faces.
Plus, the girls said they are excited about the impending arrival of a pair of lambs, which they plan to show, along with new rabbits and chickens at the 4-H Youth Show in July.
Madison, a fourth-grade student at Wylie School in Dexter, said she'd already picked out a name for her lamb: Lucy.
Bailey, a sixth-grader at Creekside, said she hadn't thought about a name for her new pet lamb, but she is looking forward to the arrival of some new chickens and rabbits next month. The girls are getting Speckled Sussex and Columbian Wyandotte chickens, which were ordered before the fire, their father said.
Lisa Allmendinger | AnnArbor.com
The family was joined Saturday by the volunteers who helped them clean up the area where once a 40' X 80' white barn stood. Once the area is cleaned of debris, the family plans to replace the barn, but in the meantime, there is still a lot of work to do.
"It's all so overwhelming, the offers of help and the donations," said Douglas Welshans. "We want people to know, family, friends, people from out of town, people we didn't even know, how much we appreciated their help."
In addition to the large barn, several out buildings caught fire, and a small portion of the Welshans' home was charred.
"In one day," Robin Welshans said, "Thanks to everyone's help, we got almost one building completely cleaned up."
She said about 16 people worked most of the day as part of the cleanup efforts. The family plans two more work days the next two Saturdays beginning at 9 a.m.
In addition to the small animals, the family raises cattle, and seven cows and one calf survived the blaze because they were outside in pastures.
The family arrived home from church Sunday to find several rabbit cages and chicken laying nests, feeders, bowls and other rabbit and chicken equipment had been dropped off at the farm at the corner of Scio Church and Parker roads while they were gone.
The family was worried that more potential sorrow would hit them Sunday after their beloved 8-year-old yellow Labrador retriever Daisy ran away from home. But the family received good news Monday when a Saline resident saw the dog running scared on Scio Church Road. Daisy was "very upset" with all the commotion, the storms that blew through the area Sunday and the fire, Robin Welshans said.
In addition to 4-H competitions, Madison and Bailey show four breeds of rabbits as junior exhibitors at American Rabbit Breeders' Association shows.
Lisa Allmendinger | AnnArbor.com
The sisters raise Californians, Holland lops, Mini Rex and Havana rabbits and said they are looking forward to working with their new bunnies — whenever they arrive and there's a place to house them. Their 4-H leader, Cathie Mason, is working with the rabbit community to find the girls more rabbits in time for upcoming 4-H competitions.
A fund has been set up at Chelsea State Bank to assist the family in rebuilding the barn, which could not be insured because of its age, and to help replace the estimated $50,000 worth of animals and equipment lost in the fire.
In addition, a bank account has been set up in Robin Welshans' name at the University of Michigan Credit Union, 4440 Jackson Road, in Ann Arbor or donations can be sent to the Welshans Family, P.O. Box 276, Dexter, MI 48130
There is more information about the family's immediate needs on Facebook.
Lisa Allmendinger is a regional reporter for AnnArbor.com. She can be reached at lisaallmendinger@annarbor.com. For more Chelsea stories, visit our Chelsea page.
Lisa Allmendinger | AnnArbor.com