Posted on
Mon, Jul 8, 2013 : 3:54 p.m.
Police: Man arrested while trying to break into Chelsea garage
By John Counts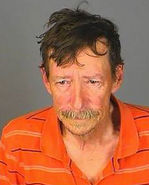 Courtesy of WCSO
Police arrested a 62-year-old Dexter man just as he was about to break into a Chelsea garage Saturday, officials said.
Charles Thurston was arraigned Sunday on charges of first-degree home invasion, first-degree attempted home invasion, receiving and concealing firearms and felony firearms a day after being caught standing on a bucket next to the garage window, said Chelsea police Chief Edward Toth.
Thurston first came over to a residence in the 200 block of Wilkinson Street around 5:30 p.m., Toth said. A 66-year-old woman Thurston is acquainted with lives at the home, police said.
"There's been an ongoing thing between the two," Toth said.
Thurston came to retrieve some items he believed were his, but there was some sort of dispute and he left, then later came back and slit a screen on a garage window, police said. A neighbor called police, who say Thurston was about to climb inside when they caught him in the act.
"(Officers) located (him) standing on a plastic five-gallon bucket, trying to lift his leg into the window," Toth said.
Thurston was arrested without incident. Officers recovered a plastic bag inside the garage containing a handgun, three lady's gold brooches and burglary tools, Toth added. He said the bag was linked to Thurston, who remains at the Washtenaw County Jail on 10 percent of $5,000 bond, according to jail records.
John Counts covers cops and courts for AnnArbor.com. He can be reached at johncounts@annarbor.com or you can follow him on Twitter.