Posted on
Sun, Nov 20, 2011 : 1:05 p.m.
New Chelsea police building construction on schedule
By Lisa Allmendinger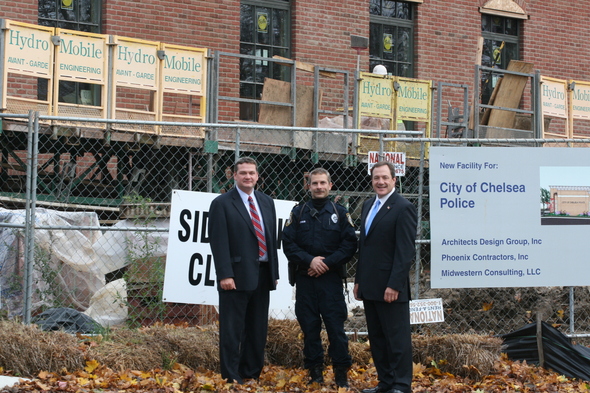 Lisa Allmendinger | AnnArbor.com
The new
Chelsea
Police Station construction is right on track at the corner of
South Main Street and East Summit
.
"The project continues right on schedule," said John Hanifan, Chelsea city manager. "It's right where we thought it would be, and there have been no significant problems."
Hanifan said the construction crew had lost a few days because of the weather but they were made up, he said.
He also expects that the 40-space parking lot east of the building will be complete this season.
"The new building is 20 percent smaller than the original footprint," said Mayor Jason Lindauer, "thanks to input from residents."
He said that input "was deeply appreciated and the building is as much as an accomplishment for them as it is for the city and the police department."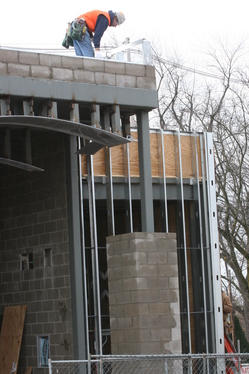 Lisa Allmendinger | AnnArbor.com
The new police station occupies about three city lots at the corner of South Main Street and East Summit, a few blocks from the current police headquarters and next to the Chelsea State Bank building.
The project is expected to cost $2.5 million, and the city's Downtown Development Authority contributed $500,000. The remainder will be paid for through 15-year bonds.
It's expected that the building will be completed by late February or early March, Hanifan said.
"We expect the police department to move in in April and that it will be fully operational in mid-May," Hanifan said.
This design "tries to be a blend between contemporary and blending what's already in Chelsea," architect Bob Overhiser of Architects Design Group of Ann Arbor said previously.
The one-story building will have a finished lower level, with the entrance off the current parking lot, while the driveway will remain in its existing location.
Currently, the police department is housed in a storefront at 104 East Middle St.
The Chelsea Police Department has eight full-time officers, including the chief and a canine officer. There are seven part-time officers, three full-time dispatchers, a records clerk, two parking officers, three crossing guards and three reserves.
"This is a 50-year solution to a 20-year problem," Lindauer said, adding "We appreciate everyone's patience during the construction."
There have been road, lane and sidewalk closures at times to accommodate the construction.
"This project's been executed through the cooperation and enthusiasm of the people of Chelsea," he said.
Lisa Allmendinger is a regional reporter for AnnArbor.com. She can be reached at lisaallmendinger@annarbor.com. For more Chelsea stories, visit our Chelsea page.