Posted on
Mon, Jan 16, 2012 : 5:58 a.m.
Federal mandate: New 'retroreflective' street signs attached to road funds may come with big price tag
By Lisa Allmendinger
Cities and villages that accept Federal Highway Administration funds for road projects now have a mandate - replace all of your current signs by 2018 with more reflective ones that will be easier for drivers to read.
The mandate is planned in stages "to increase public safety by making traffic signs easier to read during all weather conditions," according to information about the program.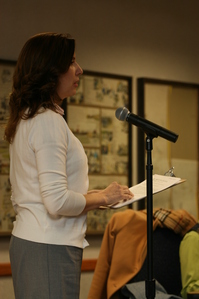 Lisa Allmendinger | AnnArbor.com
However, it's a mandate that will wind up costing cities and villages thousands of dollars to replace all safety and street signs - and depending on where they are located in a municipality and their size, the prices - even for the same type sign - will vary.
And, although a total cost for Chelsea hasn't been determined yet, there is no doubt that it will be an expensive undertaking. According to a 2008 inventory completed by Chelsea police, there are 100 stop signs alone in the city.
Brad Roberts, city utilities director, said he's priced the new signs, and the stop signs alone are $35 each.
He said a street sign for Chelsea-Manchester Road, for example, will cost $111, while one for Commerce Park Drive would be $87. A Main Street sign was estimated at $30.
Councilman Frank Hammer said he found the new mandate "almost laughable," especially with the tough economy.
"Should we assume (with the new signs) that people will now read S-T-O-P and do so?" he asked.
The new signs must meet minimum "retro-reflectivity requirements," said Christine Linfield, city engineer, who was asked by the City Council to remove "all redundant and unnecessary signs" as a part of this project, which will be undertaken during multiple years to lessen the effect on the budget.
There are three key deadlines for the mandate, Linfield said. One for an assessment and maintenance plan, a second for the replacement of regulatory (safety) signs, and a third for replacement of street signs.
Chelsea met the first requirement Jan. 10 when it approved an assessment and maintenance plan, which Linfield said, must be in place by Jan. 22. As part of that plan, Roberts and Linfield divided the city into four zones. The first zone is all the signs north of the railroad tracks, the second zone encompasses those signs south of the railroad tracks, from M-52 west to Cavanaugh Lake Road, stopping at Old U.S. 12.
The third zone encompasses signs south of the railroad tracks, from M-52 east to Freer Road, while the fourth zone is south of Old U.S. 12 to I-94.
Chelsea has also chosen a "blanket" replacement method, which will be paid for over multiple budget years and follow the manufacturer's recommendations for expected sign life.
City staff plans to sample the brightness of some signs in each zone before deciding on future replacements, Linfield said. "All regulatory, warning and guide signs must be replaced by Jan. 22, 2015, then by Jan. 22, 2018, "all street names and overhead guide signs" must be changed out.
Lisa Allmendinger is a regional reporter for AnnArbor.com. She can be reached at lisaallmendinger@annarbor.com. For more Chelsea stories, visit our Chelsea page.