Posted on
Thu, Apr 14, 2011 : 5:32 p.m.
Farmers Bill Nixon, Earl Horning honored by Washtenaw County Dairy Livestock Council
By Lisa Allmendinger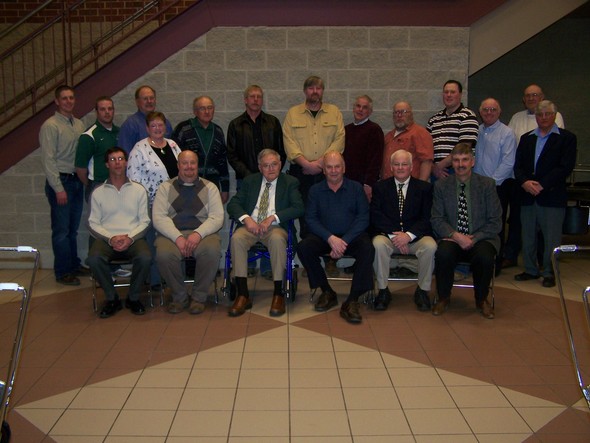 Courtesy photo
Farmers Bill Nixon of Webster Township and Earl Horning of Freedom Township were honored last month for distinguished service to agriculture at the 2011 Washtenaw County Agriculture banquet.
Nixon, a cattle farmer, served as a director and president of the Washtenaw Livestock Council from 1964-1979. In 1980, the council merged with the Washtenaw Dairy Council and he was elected to the combined board and served for 16 years.
The longtime Washtenaw Farm Bureau member also served on the Webster Township Board of Review and was on the Michigan Cattleman's Association board of directors from 1992-1998.
"Bill has certainly been a long time leader in agriculture production and in the Washtenaw Dairy and Livestock Council," said Nancy Thelen, MSU extension educator.
Horning, a dairy farmer, "is a strong advocate for (farmers) telling their story about their farming operation and by his actions firmly believes in educating consumers about agriculture," Thelen said.
She said Horning has been heavily involved in Project RED (Rural Education Day), during which county third-graders spend a day at the Washtenaw Farm Council Grounds learning about different aspects of local agriculture. It takes place each April.
In addition, Horning sponsored Breakfast on the Farm several years ago, during which people were invited to his Freedom Township farm to see a farm operation.
Thelen said Horning is a director of the Michigan Milk Producers Association and is active in the Farm Bureau and is the chairman of the United Dairy Industry of Michigan.
"He walks the talk," Thelen said.
The banquet was hosted by the Washtenaw County Dairy Livestock Council at Manchester High School.
The same farmer has never won twice, she said.
In addition, the agriculture council honored Nick Heller for his 30 years of service, while Rusty Exelby of Saline, and Jerry Kuhl, Dennis Trinkle and Howard Sias, all of Chelsea, were elected to the council for a 3-year term.
Lisa Allmendinger is a regional reporter for AnnArbor.com. She can be reached at lisaallmendinger@annarbor.com. For more Dexter stories, visit our Dexter page. For more Chelsea stories, visit our Chelsea page. For more Saline stories, visit our Saline page.