Posted on
Fri, Jan 13, 2012 : 5:28 p.m.
One World One Family to celebrate MLK Jr. Day in song
By Lisa Allmendinger
The One World One Family organization of Chelsea is changing things up for its Martin Luther King Jr. Day event on Monday by celebrating the civil rights movement and the man himself through music.
The celebration "Music Makes a Difference: Songs of Protest" will begin at 7 p.m. at the Chelsea District Library.
"We wanted to do something different this year and previous MLK Jr. Day celebrations have been quite elaborate and fantastic," said Jane Ladio, referring to marches and speakers that have been a part of the event.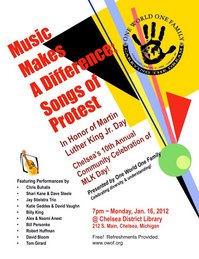 Susan Lentz, one of the One World One Family members, had been suggesting the inclusion of songs for several years.
"Music has always been important to movements — the civil rights struggle, the peace movement, economic protest in the depression. It brings people together," she said in an email.
Chris Buhalis, the organizer of a similar peace concert in Ann Arbor, will be the emcee and perform as well.
For a full list of performers, click here
In starting the One World One Family organization, Chelsea residents had for many years quietly discussed the fact that Chelsea had a fairly homogeneous population and that children who live in the city were growing up without the tools to live in a diverse world, according to information from the group.
"This seemed symbolized by the fact that Chelsea had never acknowledged Martin Luther King Jr. Day even though it had been a federal holiday since 1983," according to the group's information. Chelsea's first organized Martin Luther King Jr. Day celebration took place in January 2002 and more than 500 people turned out, Ladio said. One World One Family was formed and continues today.
Lisa Allmendinger is a regional reporter for AnnArbor.com. She can be reached at lisaallmendinger@annarbor.com. For more Chelsea stories, visit our Chelsea page.