Posted on
Tue, Feb 28, 2012 : 5:57 a.m.
Ordinance to be drafted to permit backyard chickens in Chelsea
By Lisa Allmendinger
Belle, a live chicken, was given a bird's eye view of the Chelsea City Council in action Monday night.
Wrapped in a towel, she sat quietly on Ana Hotaling's lap while Chris Feleskey made a pitch for a group of residents who would like the city to change its zoning ordinance to allow a few hens on small lots for egg production.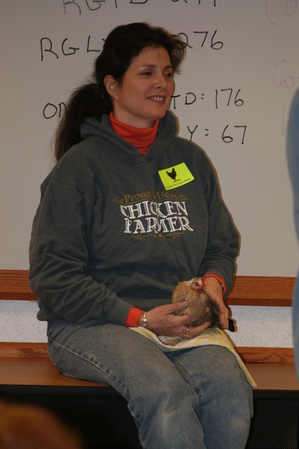 Lisa Allmendinger | Ann Arbor.com
And, although the chicken didn't cluck her approval, the City Council directed City Manager
John Hanifan
to draft an ordinance for review that would permit backyard chickens.
"There is a lot of interest in this," said Feleskey, the spokesman for the group of about 15 backyard chicken supporters at the meeting. "It's an issue in town and it's something that's been changed in other towns."
By a 4-2 vote, with Council Member Rod Anderson and Mayor Jason Lindauer voting against it, a majority of the council was willing to consider the issue. However, no specific date was given for crafting the ordinance and bringing it back for discussion.
Council Member Frank Hammer was absent from the meeting.
The backyard chicken group is hoping to be allowed to have a small number of hens on small lots in Chelsea, and they offered a sample ordinance for council consideration.
"My concern is the enforcement piece," said Council Member Bill Holmberg, who added that this didn't mean he'd vote against it, but "I will keep going back to it."
Feleskey said neighbors are "the eyes and ears for complaints," whether it's the condition of a yard or noise or odor. "The community takes care of itself," he said.
Besides, "free eggs are a great equalizer," he said, which got a few laughs from the crowd.
Currently, the city's ordinance allows chickens in three city zoning districts - one agricultural and two residential areas - however, homeowners must have at least 5 acres to legally house them.
According to the group's draft proposal, three hens would be allowed on property up to .11 of an acre, four hens for property from 0.12 to 0.23 of an acre, six hens for property 0.24 to 0.35 of an acre and eight hens for property that is 0.36 to 4.99 acres.
No roosters would be allowed under the proposal.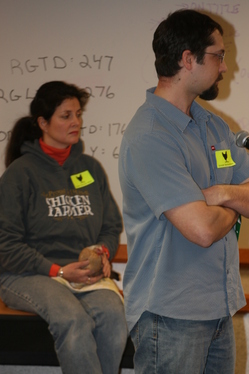 Lisa Allmendinger | AnnArbor.com
Council Member Rod Anderson said he had a number of concerns about this issue. Among those concerns was the "slippery slope" of allowing chickens in the city. "What happens when Ducks Unlimited comes to us? How do we rule them out?"
Lindauer agreed with the "slippery slope" concept, saying it was something that was a concern for all elected officials in the city, and he also questioned if the city can "undertake something like this with the current resources available (for enforcement) in the city."
Also of concern for Anderson was that the Planning Commission had looked at this issue previously and decided not to change the zoning ordinance.
"They did a thorough job and we'd do a disservice to ignore them," he said.
Anderson also questioned why backyard chickens were needed in the city when fresh eggs were available in rural areas so close to Chelsea. He also asked whether real estate values would decline in the city if someone was buying a house next to one with a chicken coop.
"My property values have fallen so far I can't afford to move to a rural area," where chickens are allowed, Feleskey said.
He said he looks at chicken ownership "as a property right's issue and a sustainability issue. I've done a lot of research and I haven't found one town that's regretted its decision (to allow backyard hens.)
Lisa Allmendinger is a regional reporter for AnnArbor.com. She can be reached at lisaallmendinger@annarbor.com. For more Chelsea stories, visit our Chelsea page.