Posted on
Sat, Mar 3, 2012 : 1:56 p.m.
Honoring a hero: Running event helps Chelsea-area residents pay tribute to son's sacrifice
By Lisa Carolin
Angela Cesere | Ann Arbor.com
Joel Gentz was only 25 when he died. He had been in Afghanistan as a combat rescue officer for the Air Force for six weeks when his helicopter was shot down in Afghanistan in June 2010.
Saturday, his parents and others paid tribute to his life and service to his country with a 3-mile run through Chelsea, on behalf of Team Red, White & Blue, an organization that works to enrich the lives of wounded veterans and their families.
Before the run, about two dozen people gathered at Joel Gentz's gravesite in Oak Grove Cemetery, Among them were Gentz's parents, Judy and Steve Gentz of Sylvan Township, and Chris "Aggie" Aguillera, 37, one of two survivors of the helicopter rescue mission in which Joel Gentz and four others were killed.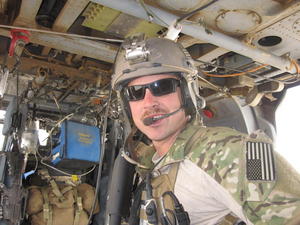 Through Team Read, White & Blue, the Gentzes and Aguillera have found support and connection. Aguillera, who suffered a brain injury and severe damage to one of his legs in the crash, is visiting the Gentz family from his home in Las Vegas.
"Judy is my sponsor for Team Red, White & Blue and my advocate back to the world," said Aguillera. "I lost five friends that day, but I gained lots of family."
"We have a lot of surrogate sons and daughters, and you feel like they are one of your own," said Judy Gentz. "It's important for me as Joel's mom to let Aggie know that surviving that crash is a good thing and that he is important to us. My husband and I both work in mental health and have a good professional understanding of how traumatic it is for a veteran to be a survivor."
"Aggie shared with us a lot about the other men (on board the helicopter) and that means a lot to my own coping," said Steve Gentz.
"I have post-traumatic stress, but I can function because I've had a lot of help," said Aguilerra, who spent five months in a hospital following the crash and then eight months in a wheel chair.
Five of seven on board the helicopter were killed, and Aguillera was one of the survivors.
"The Air force has been supportive, but Aggie has been able to answer questions they could not," said Judy Gentz. "I asked him if they were afraid when their helicopter was shot down, and he said they didn't have time to be afraid. "
Today's three mile race gave Aguillera a chance to visit Joel's grave. The Gentz' brought an American flag that was used on rescue missions in Afghanistan to carry during the run.
The local arm of Team Red, White & Blue was started in October of 2010 by Mike Erwin, who was a U-M master's degree student in psychology. He told the Gentz family that he wanted to dedicate an ultra marathon to Joel, and, along with a few friends, ran from Plymouth to Detroit, and then participated in the Detroit Marathon.
"It has spread like gangbusters," said Judy Gentz. "Team Red, White & Blue has given us something to do to show our participation in the military and has been incredibly supportive to our family."
The whole Gentz family is involved with Team Red, White & Blue, including 25-year-old daughter, Rachel, who is attending dental school at Harvard, and 20-year-old son, Jared, who attends the College for Creative Studies in Detroit, and ran in today's race.
Judy Gentz said that participating has helped with her family's healing.
"I think it's something Joel would want us to do," said Judy Gentz. "It's positive and keeps us involved."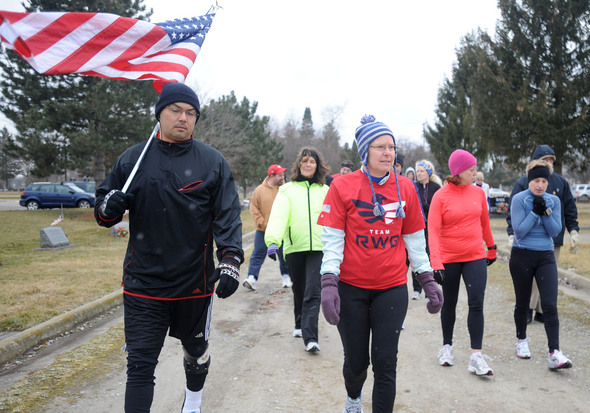 Angala Cesere | AnnArbor.com