Posted on
Thu, Nov 3, 2011 : 12:12 p.m.
Decorated sandhill cranes featured throughout Chelsea
By Lisa Allmendinger
You're probably seen sandhill cranes flying overhead, but they've landed for the first time in Chelsea.
The life-size recycled sandhill cranes were designed by Chelsea's Bumbles' Dry Goods store and citywide, nearly 40 store owners have gussied them up for visitors to see during the first organized Sandhill Cranes Gather and Fall Colors Tour that began in October.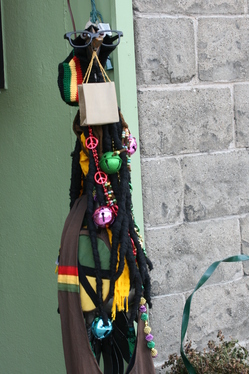 Lisa Allmendinger | AnnArbor.com
The grounded cranes are decorated, painted, dressed up and bedazzled, and a full map to track all of the cranes can be found inside participating businesses.
Meanwhile, the migrating ones are expected to be in the Chelsea area until mid-November. According to information about the tour, thousands of sandhill cranes migrate through the 21,000 acre Waterloo State Recreation Area, which is located west of Chelsea.
People have been gathering at Thompson's Pizza and The Wolverine Restaurant near the corner of Old US 12 and M-52 on Saturdays and Sundays since October at 2 p.m. for a self-guided tour through Waterloo and Eddy Discovery Center for the fall color tour, and this weekend marks the end of the gatherings.
At the Phyllis Haehlne Sanctuary in Jackson County, an Audubon Society member will give a talk about migrating cranes from 4 p.m. until dusk.
The event ends on Nov. 12 with the Wine, Women and Shopping event in downtown Chelsea from 10 a.m.-6 p.m. Visitors can get a last look at the cranes and search for red and white balloons that signify the about 30 participating stores in the shopping event, which includes free giveaways as well as wine tastings.
Wine will be served at Seitz's Tavern, New Chelsea Market, Jet's Pizza and Thompson's Pizzeria for $3 for three glasses. Thompson's Pizzeria is serving Michigan wines and a special Michigan Cherry salad.
For more Chelsea stories, visit our Chelsea page.