Posted on
Wed, Jun 13, 2012 : 12:20 p.m.
Third new restaurant in four months: Smokehouse 52 planned for downtown Chelsea
By Lisa Allmendinger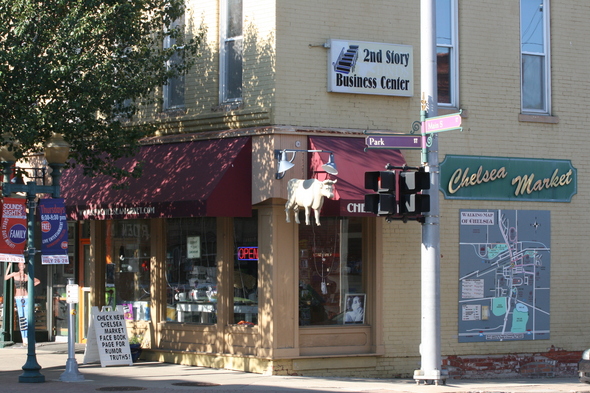 Lisa Allmendinger | AnnArbor.com
Editor's note: This article has been updated with information about the New Chelsea Market, which currently occupies the Smokehouse 52 space.
Main Street in Chelsea is fast turning into restaurant row. Plans for another new dining option, the third in four months, have been announced.
The newest addition is Smokehouse 52, a barbecue restaurant, which will be owned by Phil Tolliver at 121-125 Main St. currently occupied by the New Chelsea Market. Kevin Riley, owner of the market, said he is looking for a larger space in Chelsea and expects to be able to announce a new lease agreement soon.
In an interview Tuesday night, Tolliver said that he'd called barbecue champion Mike "The Legend" Mills and driven to Southern Illinois to learn the art of barbecue from the renowned pitmaster. Mills owns a number of nationally acclaimed barbecue restaurants in Illinois, Las Vegas and New York City.
"Smokehouse 52 will be a unique restaurant and a true destination place bringing people to Chelsea. We will be one more reason to visit our great city," Tolliver said in a letter to the Chelsea City Council.
According to a rough draft of plans for the interior of the new restaurant, it will have seating for about 180-190 people, a bar and an area in the far back corner for the smoker for the "real pit BBQ."
Tolliver, of Howell, said he'll begin renovations to the building this summer and plans to open this fall.
Meanwhile, Riley assured customers that he's committed to finding a new location in town for his store. "We are definitely not going out of business. We love Chelsea and we've built a growing business. ... We are looking for a larger area to be able to expand our line of Zingerman's and local products."
The announcement of the plans for the new restaurant follows the news about plans for the Chelsea Alehouse, which also expects a fall opening, and Bistro 52, planned for the old post office building at the corner of Main and South streets.
Tolliver got unanimous approval Tuesday night from the Chelsea City Council to proceed with a liquor license application through a new state provision for redevelopment projects or downtown development areas.
Chelsea City Manager John Hanifan said that the city had already approved two of these new licenses.
Tolliver plans to feature real pit barbecue, which will be smoked on site. The lunch and dinner menu will include pulled pork, beef brisket and "even whole hog."
"We will also have house-made sauces highlighting regional American BBQ," Tolliver's letter states.
When Council Member Rod Anderson asked which state has the best barbecue, Tolliver answered without hesitation, "Chelsea, MI."
The new restaurant owner said he plans a "vintage Americana" look with "unique artifacts such as weathered flags and a 100-year-old school bell."
And, he plans to keep the iconic cow that currently hangs outside the building.
There will be wood plank flooring, timbers, cedar shakes, copper accents and barn wood inside.
Council Member Cheri Albertson was absent from the meeting.
Lisa Allmendinger is a regional reporter for AnnArbor.com. She can be reached at lisaallmendinger@annarbor.com. For more Chelsea stories, visit our Chelsea page.