St. Louis Center looks toward future with $10-million legacy campaign
Posted on Mon, Apr 23, 2012 : 5:57 a.m.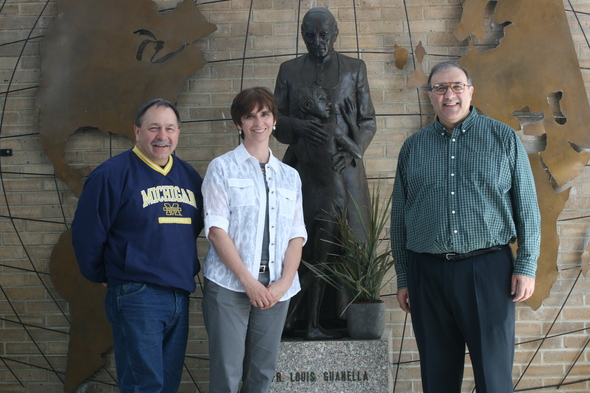 Lisa Allmendinger | AnnArbor.com

The St. Louis Center hopes to build a village on its 180-acre campus on Old US-12 in Sylvan Township - a place where aging adults with intellectual and developmental disabilities and their parents or caregivers can call home sweet home.

Father Enzo Addari, administrator of the center, said that 76 percent of Americans with I/DD live with their families, while more than 25 percent of family care providers are over the age of 60. Plus, with medical advances, people with I/DD are living well into their 60's, 70's and beyond.

With this in mind, St. Louis Center, a non-profit, began a 10-year, $10-million legacy campaign to fund building renovations, a new playground with special needs amenities, and ultimately, to add "The Village," for the continuum of care that residents will need in the future.

In 2011, the first year of the campaign, $1.5 million was raised, and the first phase of the project was completed, which included the construction of a new family orientation and welcome center, and a therapy and enrichment center for art, music, counseling and wellness programs.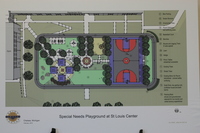 Lisa Allmendinger | AnnArbor.com
The second phase includes a special needs playground as well as the infrastructure and construction of The Village at St. Louis Center, which will include small homes designed to meet the needs of older adults who are living with, for example, Down Syndrome, autism and nervous conditions.
This specialized housing community will allow families still caring for their adult children with I/DD to live together with other families who have similar needs. Planned are both supported and assisted living options.
"All of these people need a family and a place where they can be surrounded by love and it doesn't matter how tall they are or whether they have blue or brown eyes, they are all gifts from God," Addari said.
St. Louis Center has been caring for children and adults with intellectual and developmental disabilities (I/DD) for the last 52 years, said Joe Yekulis, public relations director for the Servants of Charity, a group of priests and brothers who have operated the center since it was founded by the Archdiocese of Detroit in 1960. Residents have an IQ of 70 or lower, he said.
Lisa Allmendinger | AnnArbor.com
As placement requests for older adults rose, it became clear that there needed to be a shift toward the future and the plan for The Village was launched.
Many older adults with I/DD have lived at home all their lives, but now their parents can no longer care for them, Addari said. "With this new community, families can stay together."
He said the center is "getting more and more requests to care for older adults with I/DD who need our help, so as we plan for the future we need to be prepared to care for this special population."
The Legacy Campaign is co-chaired by Norman Neuman and Addari, and they've recruited well-known Ann Arbor fundraising volunteer Joe Fitzsimmons, to be the campaign's advisor.
"St. Louis Center is a hidden gem in our community, and I want more people to know who they are and the great work they're doing," Fitzsimmons said in a press release.
More than 750 children and adults have lived at St. Louis Center since its opening and "the facilities need to be updated, upgraded, and uplifted," Addari said.
To date, Father Guanella Hall, where older adults will live, has been retrofitted to "include universal design elements that will make it possible for residents to be as independent as possible," Yekulis said.
"It's important to note," said Peggy Cole, development director, "We're thinking of the next 50 years, and St. Louis Center is a faith-based organization that does not discriminate on the basis of race, religion, national origin, color or sex."
Currently, the youngest resident is 8 years old and the oldest is 62 years old. They arrive from across the state, the largest percentage is from Wayne County but there are 13 residents from Washtenaw County. Several are from out of state.
Lisa Allmendinger | AnnArbor.com
The center is funded by donations and grants, as well as state and county agency funding, and has an operating budget of about $3 million.
St. Louis Center has four licenses to provide this care, three for adults, one for children and there are 65 full-time staff members providing round-the-clock care for the current 52 male and female residents.
Lisa Allmendinger is a regional reporter for AnnArbor.com. She can be reached at lisaallmendinger@annarbor.com. For more Chelsea stories, visit our Chelsea page.
Courtesy photo | St. Louis Center