Posted on
Wed, May 9, 2012 : 1:13 p.m.
Sylvan Township Board approves 4.4 mill tax request for August ballot
By Lisa Allmendinger
Sylvan Township residents will get second chance to decide whether the township can levy a 4.4 mill tax for 20 years to pay utility debt and delinquent taxes.
The Sylvan Township Board Wednesday morning unanimously approved putting a request for the tax levy on the Aug. 7 ballot, and if approved, will pay for
The township officially defaulted on bond payments for sewer and water systems on May 1, and the county picked up the tab since it had pledged its full faith and credit in the bonds and did not want a delinquent payment to affect its bond rating.
In November, Sylvan Township voters rejected a similar 20-year tax levy which would have paid for $9.775 million in sewer and water system debt bond payments as well as $1.213 million owed to the Washtenaw County treasurer which advanced the money for unpaid special assessments for the utilities when developers stopped paying their bills. That proposal failed 475 votes to 328 votes,
"This is the exact same language as last time, except its 4.4 mills, and it's been approved by the Board of Commissioners, Clerk LuAnn Koch said during a Wednesday morning special meeting. "We don't have a choice, this is it or nothing."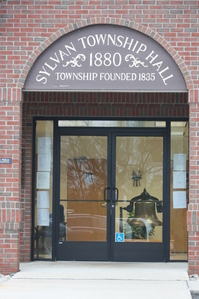 Lisa Allmendinger | AnnArbor.com
If approved by voters, the millage would be collected on the December tax bill and continue through 2032. There are about 2,500 registered voters in the township.
Township resident Patrick Zieske said he was concerned about the wording of a consent judgment document that is being prepared on a parallel track with the millage proposal. The county is working on the wording of the agreement. It would spell out what township residents will have to pay and for how long should the millage fail a second time. If necessary, the consent judgment needs court approval before it would go into effect.
According to the ballot language, in the first year, an estimated $780,263 would be collected, and residents would pay $4.40 per $1,000 of taxable value on their homes. So, for a house with a taxable value of $100,000, this means an additional $440 per year in taxes. Currently, township residents pay less than 1 mill in township operational taxes.
So, either by a self-imposed tax levy or through a court order, township residents should expect a much larger tax bill this winter.
"The wording will be submitted to the county today," Koch said. The township has until May 15 to get the proposal on the August ballot.
Although the Township Board unanimously approved the language, Trustee Scott Cooper was absent for the vote.
Lisa Allmendinger is a regional reporter for AnnArbor.com. She can be reached at lisaallmendinger@annarbor.com. For more Chelsea area stories, visit our Chelsea page.