Posted on
Wed, Jan 16, 2013 : 11:10 a.m.
Three residents escape; two cats rescued from early morning fire near Chelsea
By John Counts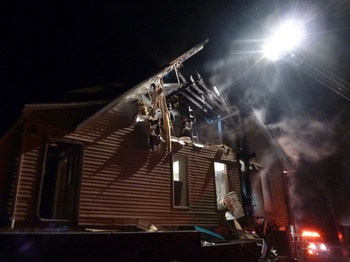 Courtesy of Chelsea Area Fire Authority
Three Sylvan Township residents — one of whom was in the shower and escaped barefoot wearing only a sheet — fled their burning home before crews arrived to extinguish the fire early Wednesday morning.
Firefighters then went into the house and rescued two cats from the second floor of the rental home in the 19000 block of Ivey Road, said Chelsea Fire Chief Jim Payeur.
There were no injuries, but Payeur said the 21-year-old woman who was showering when the fire broke out about 1:15 a.m. escaped into the bitterly cold morning barefoot and wearing only a sheet. The woman, who is also sick with the flu, was provided clothing and shoes at the scene by authorities, Payeur said.
One of the other residents discovered the fire when he walked downstairs in the two-story house and saw it in the living room, where there was a wood-burning stove. The stove is believed to be the origins of the fire, Payeur said.
The three roommates then got out of the house. When fire crews arrived, both the first and second floors were ablaze and flames were shooting through the roof, Payeur said.
"(Firefighters) were able to stop the fire from traveling," he added.
They also found two cats trapped on second floor and brought them to the owners, "who were extremely happy," Payeur said.
The fire was brought under control in about 45 minutes, but crews — which included the Cheslea Area Fire Authority and the Dexter Area Fire Department — didn't clear the scene until about 4:30 a.m.
Payeur said much of the house, located north of Chelsea in Sylvan Township, is currently uninhabitable and estimates there is about $100,000 worth of damage. All three residents were displaced by the fire.
The Washtenaw-Lenawee County Chapter of the American Red Cross assisted one of the residents with food and lodging, it said in a release. The other two went to stay with friends or family, Payeur said.
Despite the fire and smoke damage, Payeur said the house could be salvaged.
"it's repairable," he said.
John Counts covers cops and courts for AnnArbor.com. He can be reached at johncounts@annarbor.com or you can follow him on Twitter.