Posted on
Mon, Oct 24, 2011 : 11:08 a.m.
87-year-old man busted with 104 bricks of cocaine near Chelsea
By Lee Higgins
Update: 87-year-old caught with cocaine: Latest in long line of drug busts on Ann Arbor area highways
Update: 87-year-old tells judge he was forced 'at gunpoint' to deliver 228 pounds of cocaine
Michigan State Police troopers arrested a man Friday after investigators said they seized 104 bricks of cocaine from a pickup truck during a traffic stop on I-94 near Chelsea.
Leo Earl Sharp, 87, was charged Sunday in a federal criminal complaint with conspiracy to possess with intent to distribute cocaine.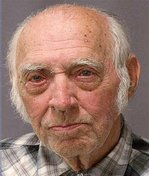 AP photo
He is scheduled to appear in federal court in Detroit at 1 p.m. today for a detention hearing in front of U.S. Magistrate Judge
Mark Randon
, said
Gina Balaya
, a spokeswoman for the U.S. Attorney's office in Detroit. Balaya said she did not know where Sharp lives.
According to an affidavit by DEA Special Agent Justin Holton, a state trooper pulled Sharp over at 5:25 p.m. Friday on eastbound I-94, roughly a mile west of Chelsea. Sharp was stopped for improper lane use and following too closely, the affidavit says.
The trooper asked to search the truck, but Sharp declined the request, the affidavit says. A police dog was brought to the scene and "alerted on the rear of the vehicle for the presence of narcotics."
Investigators searched the bed of the truck and found four black bags containing 25 brick-shaped objects each and a small gray and blue bag containing four brick-shaped objects.
According to the affidavit, the objects were turned over to the DEA and field-tested positive for cocaine. The weight and estimated street value of the cocaine is not specified in the affidavit.
DEA Special Agent Rich Isaacson, a spokesman for the agency in Detroit, could not immediately be reached for comment this morning.
Lee Higgins covers crime and courts for AnnArbor.com. He can be reached by phone at (734) 623-2527 and email at leehiggins@annarbor.com.