Posted on
Fri, Nov 11, 2011 : 7:43 p.m.
Veteran's Day in Chelsea: 'Wearing a uniform creates a special bond'
By Lisa Allmendinger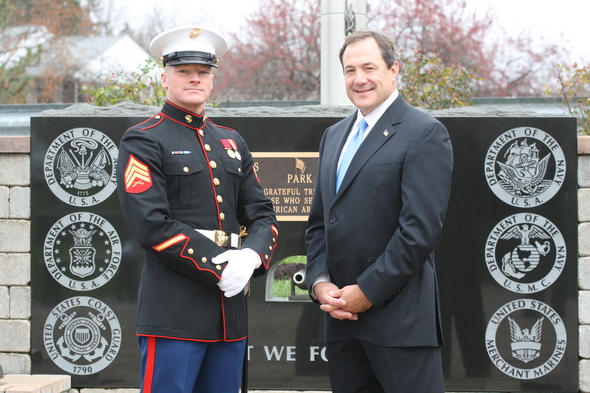 Lisa Allmendinger | AnnArbor.com
About 60 veterans were on hand at Veteran's Park in
Chelsea
to hear one of their own honor not only the efforts of the men and women who have served in the military, but also their families and friends at home, who provided a positive influence in their lives.
"A hero is a person who does something very brave to help someone else," said retired Marine Col. James J. Coolican, the featured speaker, who served in Vietnam.
"They don't ask for credit. They don't expect anything in return," he told a group of students from South Meadows Elementary School, who sang several songs during the Veteran's Day event.
Coolican said Veteran's Day is a day of remembrance, as well as a day to say thank you to all the men and women who have served in the military. "Wearing the uniform creates a special bond," he said, adding that" veterans should be with veterans today."
Lisa Allmendinger | AnnArbor.com
Coolican received the Navy Cross for "conspicuous gallantry and extraordinary heroism in the recovery and movement of wounded soldiers, the silencing of enemy assaults with a grenade launcher … all while under enemy observation and unrelenting hostile fire from automatic weapons, B-40 rockets and mortars," said Chelsea Mayor
Jason Lindauer
.
"Outnumbered 10-to-1, Coolican and his small band of heroes fought alone for three days before relief and reinforcements arrived," Lindauer said, of the battle that took place outside the city of Hue, the ancient imperial capital of Vietnam in January, 1968.
There were servicemen from all branches of the Armed Forces mingling at Veteran's Park in Chelsea Friday, many of them in uniform.
"If someone had told me all the opportunities I'd have (as a Marine), I wouldn't have believed them," said Jeremy Zeigler of Chelsea. "It's unbelievable."
Zeigler spent 6 years as a Marine and finished his military career as a sergeant.
For John McKenzie of Chelsea, an Army veteran, his years of military service followed in the footsteps of his father, who served in World War II, his three older brothers and his uncles.
"Veteran's Day is a consideration of everyone who has served," he said. "It's a happy day, a sad day and a great day."
He said that it was a time to think about other veterans who are still living as well as those who sacrificed their lives.
Jeff Clark of Milan finished his military career as a master sergeant, and said the day was a way to honor "those who have fallen and the ones who are living and who have provided the freedom for this country. It's about those who have served this country."
Alex L. Roskowski of Chelsea, an Army-Air Force veteran of WWII, said the men who served in "The War" thought it would be the last war.
"Americans can sleep well tonight because there are men and women in the military there to protect us," Collican said.
Lisa Allmendinger is a regional reporter for AnnArbor.com. She can be reached at lisaallmendinger@annarbor.com. For more Chelsea stories, visit our Chelsea page.
Lisa Allmendinger | AnnArbor.com