Posted on
Wed, Jan 25, 2012 : 2 p.m.
Chelsea renews contract with Ann Arbor for IT services
By Lisa Allmendinger
A successful $32,000 regional agreement between Chelsea and Ann Arbor, which was begun last February, will be renewed at no cost increase for another year.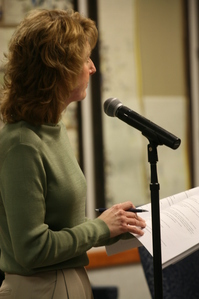 Lisa Allmendinger | AnnArbor.com
The
Chelsea City Council
unanimously approved the renewal of an information technology contract with the City of Ann Arbor Tuesday night following a successful first year. The initial agreement, signed last February, replaced an internship program, which Chelsea had used for its information technology services.
Ann Arbor subsequently hired, Jonathan Bougher, the former Chelsea intern, for the position.
"We're very pleased to bring a renewal of this contract to you," said Kim Garland, Chelsea's administrative director. "The feedback from all the departments has been very positive and we think it's a fair cost."
Garland said the scope of services and the special projects portion of the contract have been updated. Included in the changes are a system that will allow department heads to access files remotely, network upgrades that will increase the speed of the system, an update to the city's website and the possibility of having Ann Arbor host Chelsea's website. "The high standard of service we had established internally continued and even improved this year due to the expanded resources available through the City of Ann Arbor Information Technology team," Garland said in a memo to the City Council.
Although the contract doesn't include the police department, support has been provided for the new police building that's under construction. Garland said in a memo that the Ann Arbor IT Department works closely with the Washtenaw County IT Department, "which supports (Chelsea's) police department."
The agreement allows Chelsea to utilize the expertise of a larger IT department with an understanding of governmental operations, while limiting the cost associated with maintaining that skill set in-house, Garland said previously.
"We are trying to promote (working with Ann Arbor's IT Department) where we can," Garland said, adding that it's been a successful and positive partnership for Chelsea.
The IT partnership between Chelsea and Ann Arbor is currently the only partnership of this city-to-city type in the county, she said.
The contract provides Chelsea with round-the -clock technology support including the management of Chelsea's website, content and technology for Channel 18, the city's local TV station, as well as the city's software and hardware.
Chelsea agreed to provide office space, business equipment and supplies for the person assigned to the city, who is on site several days a week.
Lisa Allmendinger is a regional reporter with AnnArbor.com. She can be reached at lisaallmendinger@annarbor.com. For more Chelsea stories, visit our Chelsea page.