Posted on
Fri, Jul 27, 2012 : 5:57 a.m.
Parents express frustrations during closing of Community Hospital Children's Center
By Ben Freed
Chelsea parents are becoming increasingly frustrated with what many of them view as an evasive and uncaring attitude from the Chelsea Community Hospital regarding the closing of the hospital's Children's Center.
"It's all smoke and mirrors," parent Dania Dunlap-Hurden said after she heard that a meeting for parent feedback originally scheduled for Wednesday night had been canceled.
Nancy Graebner, CEO of Chelsea Community Hospital, said the meeting was canceled because its purpose was to answer questions about a transition of the center's operation to Gretchen's House, which will no longer be happening.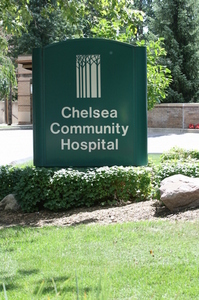 Lisa Allmendinger | AnnArbor.com
Graebner said that
Gretchen Preston
, who founded the Ann Arbor-based child development company, has reached a resolution with the Chelsea community schools to operate the before and after-school programs that previously were run by the hospital.
However, there is not yet a replacement for the daycare portion of the center, which was housed at St. Paul's United Church of Christ and currently is scheduled to close Sept. 30.
Heidi Reyst has a toddler and a pre-schooler currently enrolled in the Children's Center that will close soon. She said that many Chelsea residents will be forced to look outside the city for childcare.
"If there were fifty families with children there, all fifty will not find a place in Chelsea," she said. "This will cause the kids to lose their peer groups."
Reyst said while she understands this was a business decision, she does not understand why parents were not consulted.
"We would all have preferred to pay more and stay where we were than to be uprooted," she said.
Dunlap-Harden, who also has two young children at the center, said there have been offers from community members to donate enough to offset the operating loss of the programs. Graebner said while these efforts are generous, the hospital does not want to run multiple fundraising campaigns at once.
"With a health system of our size, we have defined philanthropic projects and campaigns," she said.
"We already have a campaign underway, and we don't want to have a competing campaign with one already in progress. We have to be careful that we aren't duplicating our efforts and overburdening the community."
Multiple parents said that their biggest grievance was what they felt was a lack of communication from the hospital.
"The community wants the program saved, the hospital does not want the program anymore," Dunlap-Hurden said.
"But that's not the source of the conflict. The source of the conflict is the way the hospital has gone about getting rid of the program."
The original letter sent to parent on July 11, stated the program would close on August 31. Graeber said the hospital has extended the daycare through September to help parents find new locations for their children.
"With those extra weeks, that's a 10-week transition period," she said.
Graebner said that while it is regrettable to have to cut the program, in todays economic climate, keeping any program not breaking even is difficult for the hospital to manage.
She added that Gretchen's House still is exploring the possibility of finding a location in Chelsea for a new early childhood center. Dunlap-Hurden said there is another group doing the same thing.
"Many of us would like to see a non-profit program continue if possible," she said.
"And there's potential to open up another non-profit entity that would be the children's center. It would be non-profit based and would have ties to the hospital and ties to the wellness coalition and different organizations in Chelsea. That idea has been tossed out there and there are a number of people who would explore the possibility."
Ben Freed covers business for AnnArbor.com. Reach him at 734-623-2528 or email him at benfreed@annarbor.com. Follow him on twitter @BFreedinA2