Posted on
Thu, Feb 17, 2011 : 8:30 a.m.
Chelsea business owners weigh in on city's downtown at open house
By Lisa Allmendinger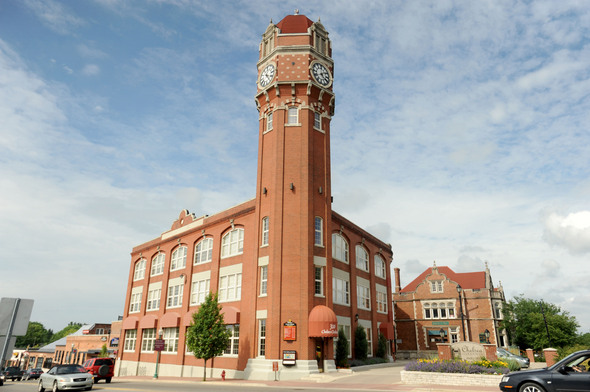 Would a permanent farmers' market space, in ice rink or a music entertainment venue help to keep downtown
Chelsea
vibrant?
That's the question the Downtown Development Authority is trying to answer and why it decided to pay two consultants up to $50,000 to put together a comprehensive plan for downtown.
Wednesday night, the consultants met with about 30 business owners and interested residents at The Depot for the first of several open houses to gather ideas.
The consultants, Howard Deardorff of Howard Deardorff Design Resources and Lincoln Pollay of Lincoln Pollay Architects, focused specifically on five vacant or underutilized properties in the downtown area. They include the former auto dealership Palmer Ford, the former Federal Screw Works building, the Clocktower, the Longworth buildings and several downtown parking lots and alleyways.
Adaptive reuse of unused space was one priority residents identified in interviews with consultants. Residents said they'd like to six a mix of businesses in those spaces. The consultants said they had interviewed 16 adults and nine high school students to get a feel for what people wanted to see downtown.
Residents said they liked the small-town feel of Chelsea and encouraged historic preservation. They'd like to see "target project improvements that are economically feasible and physically possible."
The last plan was done in the 1990s, and resulted in the opening of the Common Grill restaurant, which along with the Purple Rose Theatre, is one of Chelsea's most popular destinations.
With a population of about 5,000 residents, Chelsea already has a number of high profile events such as its August community fair, and its summertime Sounds and Sights festival. But while festivals and special events bring people into the city for a specific date and time, day-to-day vibrancy is important to establish and keep, some business owners said.
Another open house for citizen input is planned for March 9 at 7 p.m. at the Chelsea District Library.
The consultants plan to then have a third open house at which a draft plan will be unveiled, perhaps by mid-summer.
Lisa Allmendinger is a reporter for AnnArbor.com. She can be reached at lisaallmendinger@annarbor.com. For more Chelsea stories, visit our Chelsea page.