Posted on
Tue, Aug 16, 2011 : 2:16 p.m.
Chief judge takes 'likely permanent' leave from Ann Arbor's 15th District Court
By Ryan J. Stanton
Chief Judge Julie Creal has left Ann Arbor's 15th District Court on indefinite medical leave at the recommendation of her doctors and says it's likely a permanent move.
Creal, one of three judges in the 15th District Court, announced her leave from the bench at the start of this week in an e-mail to fellow district court staff members.
"This has been a tough decision, but I believe it is now necessary," Creal wrote, calling it a pleasure to work with "the best group of employees in this state."
Creal, a graduate of Pioneer High School who holds a law degree from the University of Michigan, was appointed to the bench in March 1999.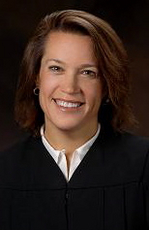 Details of her medical condition were not revealed in the e-mail she sent out. She could not be reached for further comment for this story.
Court Administrator Keith Zeisloft said he's not sure what the next steps will be as Creal still technically holds her seat while on medical leave.
But if the judgeship should become vacant, it would be up to Republican Gov. Rick Snyder whether to appoint a new judge.
However, some in the legal community are speculating Snyder could leave the seat vacant to save money as Michigan continues to deal with budget woes, and Zeisloft acknowledges that's a possibility. The state pays 100 percent of the costs of judges' salaries.
The city also could potentially save money in its general fund if Creal's position were to stay vacant, as each district court judge has three staff members assigned to them who are paid by the city. That includes a bailiff, a senior secretary and a court reporter.
Zeisloft said it's too early to say if those positions would go away. He noted they're all cross-trained and perform other functions in the court, such as assisting in case processing.
"I really don't want to give the impression that we have three people sitting around, because we always have something for them to do," Zeisloft said. "That being said, if we were to lose three people, there would be a savings."
Zeisloft said the total compensation for Creal's bailiff, senior secretary and court recorder, excluding fringes and benefits, is about $114,000.
Zeisloft said he's aware a statewide judicial resource review is under way and he's not sure when it will be released or what it will say. But he said he knows the state Legislature, the Michigan Supreme Court and the governor are all interested in looking at judgeships across the state and eliminating seats where they're not needed.
A spokesperson for Snyder could not be reached for comment.
Zeisloft said overall caseloads in the 15th District Court have been trending downward for a number of years and the court's staffing — paid for out of the city's general fund — has gone from about 44 to 32 full-time employees over the last decade.
In addition to Creal, the other two 15th District Court judges are Elizabeth Hines and Christopher Easthope.
Zeisloft said the court is still busy enough that it brings in visiting judges when needed to assist with the docket. He said it hasn't been determined yet whether more visiting judges will be brought in to assist while Creal is on medical leave.
"It depends on how the dockets go," he said. "We're taking a look at them now."
Though caseloads have been trending down, Zeisloft said the largest decrease is in citations — such as traffic offenses — that typically don't get to the judges. He said the court hasn't seen as heavy a decline in misdemeanors and other cases that do go before the judges.
According to records on file with the State Court Administrative Office, the 15th District Court saw it's total caseload decrease by 6.8 percent in 2010 from the year before — though both felonies and non-traffic misdemeanors were up considerably.
However, the overall trend for most of the past decade is down.
In 2003, the total caseload was 50,249, including 639 felonies and 5,987 non-traffic misdemeanors.
In 2004, the total caseload dropped to 41,067, including 631 felonies and 5,065 non-traffic misdemeanors.
In 2005, the total caseload dropped again to 40,087, including 652 felonies and 4,502 non-traffic misdemeanors.
In 2006, the total caseload dropped significantly to 22,696, including 606 felonies and 3,167 non-traffic misdemeanors. Traffic citations were down by about 15,000 that year.
In 2007, the total caseload was back up to 40,507, including 14 felonies and 3,804 non-traffic misdemeanors.
In 2008, the total caseload ticked down to 36,361, including 17 felonies and 3,664 non-traffic misdemeanors.
In 2009, the total caseload was down to 31,313, including 7 felonies and 3,633 non-traffic misdemeanors.
In 2010, the total caseload dropped to 29,177, but there were 64 felonies and 4,346 non-traffic misdemeanors.
Of the total cases handled in 2009, in addition to the above mentioned, 4,689 were civil cases, 116 were parking related, 20,846 were misdemeanor and civil traffic cases, 253 were drunk driving related and 1,769 were non-traffic civil infractions.
Of the 29,177 cases in 2010, in addition to the above mentioned, 4,470 were civil cases, 97 were parking related, 18,346 were misdemeanor and civil traffic cases, 233 were drunk driving related, 1,621 were non-traffic civil infractions.
Creal presided over civil cases, which reports show haven't dropped off as much in the last decade. That includes landlord-tenant matters, general civil cases, small claims appeals and domestic violence cases.
However, criminal cases involving drinking and driving, which Creal presided over, are down considerably — about 50 percent, reports show.
Creal was a city planning commissioner from 1990 to 1994 and serves on the board of Dawn Farm, an agency that helps addicts and alcoholics achieve long-term recovery. She is credited for fostering the creation of and presiding over the Sobriety Court, a specialized docket that provides intensive probation supervision and treatment for repeat drunk driving offenders.
"It's just very sad if she does not return," Zeisloft said. "You're talking about someone who's spent a large portion of her life in the court and in the community doing a lot of work. She's going to be missed. It's a blow, no doubt about it, but the court's going to continue."
Ryan J. Stanton covers government and politics for AnnArbor.com. Reach him at ryanstanton@annarbor.com or 734-623-2529. You also can follow him on Twitter or subscribe to AnnArbor.com's e-mail newsletters.