Posted on
Fri, Jan 11, 2013 : 9:08 a.m.
Children invited to 'Pets and Pajamas' event at humane society; Jan. 12 conference explores Catholic viewpoints on current events
By AnnArbor.com Staff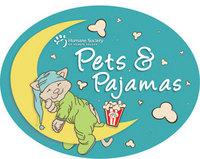 From a a pet-themed pajama party for kids at the Humane Society of Huron Valley to a one-day conference addressing national issues of concern to Catholics, here's a roundup of some of the stories posted on AnnArbor.com's
Community Wall
this week:
By: Deb Kern:
Pets and Pajamas Movie Night - Jan.18th at the Humane Society of Huron Valley
Children are invited to wear their pajamas, bring a sleeping bag and pillow and be ready for some animal-themed fun.
By: Kathy Schiffer:
Ave Maria Communications Presents "Catholic Witness in a Nation Divided"
On Saturday, January 12, 2013, Ave Maria Communications will offer a one-day conference "Catholic Witness in a Nation Divided" on the campus of Eastern Michigan University. The conference will address four areas of concern to Catholics following the 2012 election: religious liberty, the definition of marriage, life issues, and immigration.
By: Alison: Local Lions Clubs provide free vision screenings to ages 1 through 5
By: greg upshur: Chicken Quesadilla Vindaloo
By: Susan Garavaglia: One Child Dies Every Three Weeks from a TV Tipping Over
By: Janet Hawkins: WCC Will Help Train and Retain Area Workforce in 2013
By: A2Dave: Michigan Women Cagers win 13th; Best start in history of program
By: Chris Kochmanski: Daycroft Montessori School's Young Music Makers Brighten the Holiday Season for Area Seniors and Shoppers
By: Kristen Cuhran: Ann Arbor Landlord Sued for Discrimination Against Children
By: Carly C: SafeHouse Center Spring 2013 Volunteer Training
By: Andrew Thomas: Coffee With School Board Trustee Andy Thomas January 16
By: Dan Meisler: Institute for Social Research hosting events in honor of Martin Luther King Day
By: Food Gatherers: Fresh produce and fitness with Food Gatherers and Hope Clinic
By: AACCOM: Chinese Conversation Program - Ann Arbor Chinese School 2013 Spring Term Enrollment starts today!
By: FreedomSpeech: Why Are Rice Cookers And Fridges Fitted With Internet Connections And Android OS?
By: Pamela Young: Explore graduate programs at Eastern Michigan's Graduate Open House Jan.12
AnnArbor.com's Community Wall is a spot for local people to post local stories, news and announcements. To post a story, sign in to AnnArbor.com, then go to www.annarbor.com/community and use the Got News? Tell Us function at the top to submit your news. If you have a photo to add, e-mail it to us at community@annarbor.com, and we'll insert it into your story.