Posted on
Fri, Jun 8, 2012 : 10:36 a.m.
Christians expected to rally for religious freedom in Ann Arbor today
By Ryan J. Stanton
Thousands of Christians are expected to gather on the University of Michigan Diag at noon today for the second Stand Up For Religious Freedom rally in Ann Arbor.
The first one, part of a national movement back in March, drew a large crowd in front of the federal building in Ann Arbor to protest the Obama administration's contraception mandate.
Today's protest on the Diag will coincide with rallies in at least 164 other U.S. cities, including at least 13 in Michigan.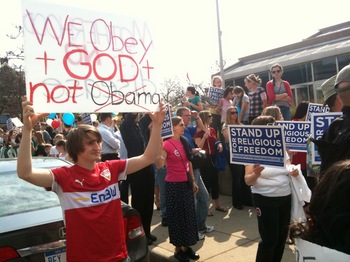 Ryan J. Stanton | AnnArbor.com
In anticipation of the U.S. Supreme Court's ruling on the constitutionality of the
Affordable Care Act
, faith-based groups are demanding that all of the nation's health care laws respect religious freedom. They're calling the Obama administration's requirement that most health care plans include birth control an unprecedented assault on religious freedom.
They argue the mandate forces even religious institutions such as Roman Catholic hospitals and universities to offer contraception, sterilizations and abortion-inducing drugs in their employee health insurance plans, contrary to their religious beliefs.
Expected to speak at Ann Arbor's rally are Al Kresta and Nick Thomm of WDEO radio in Ann Arbor Township, Pastor Mike Frison of Knox Presbyterian Church in Ann Arbor, Pastor Levon Yuille of Ypsilanti Bible Church, Sarah Burdick of Servants of God's Love, Brian Rooney of the Michigan Department of Human Services, Rob Muise of the American Freedom Law Center in Ann Arbor, and others.
Organizers were planning to hold a pre-rally mass at St. Thomas the Apostle Catholic Church near State and Kingsley streets before marching to the Diag, led by members of the Knights of Columbus Color Corps in full dress regalia and carrying an American flag.
The Ann Arbor rally's organizers circulated the text of a "Prayer for Reversal of the HHS Mandate," stating they oppose "whatever destroys life or distorts the meaning of human sexuality" and that they "refuse to cooperate in what is evil."
"At this moment, therefore, when our government has decided to force us to cooperate in evil, we pray for the grace to be faithful to You and to oppose the unjust laws and mandates that have been imposed upon us and our institutions," the prayer states.
"We pray for the complete reversal of all policies that permit the destruction of life or coerce the cooperation of Your people in practices that are wrong."
The Michigan Catholic Conference filed a lawsuit along with Franciscan University in Ohio last month against federal agencies over the contraception mandate. That coincided with 11 other similar lawsuits filed across the United States.
Ryan J. Stanton covers government and politics for AnnArbor.com. Reach him at ryanstanton@annarbor.com or 734-623-2529. You also can follow him on Twitter or subscribe to AnnArbor.com's email newsletters.