Posted on
Sat, Nov 5, 2011 : 3 p.m.
Church partners with gasoline station to give back to community with $2.49 per gallon gas
By Lisa Carolin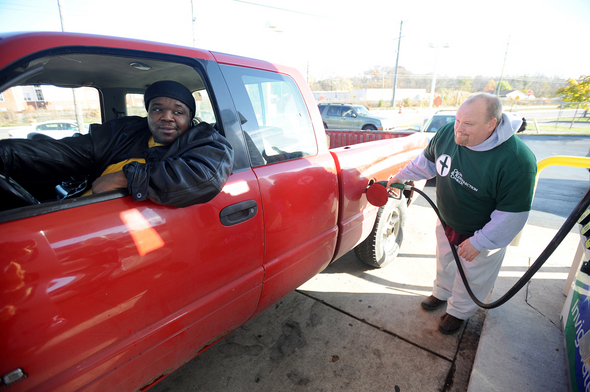 Angela J. Cesere | AnnArbor.com
The $25 price for 10 gallons of gasoline at
Kampus Korner
in Ypsilanti had motorists lined up along North Huron Street this morning.
"I saw the young lady holding up the sign and thought that is a good price for gas," said Antonio Scott of Ypsilanti.
"I saw the line of cars, saw the $2.49 sign, and I turned around," said Lea Williams of Ecorse. "I'm going to be late for work but this is worth it. I appreciate the price of this gas."
A little bit of encouragement was the purpose of today's 9 a.m.-noon partnership between Kampus Korner and the Cross and Resurrection Lutheran Church located just around the corner on Ann Street. Church volunteers washed windshields, made purchases and got change for customers in the Kampus Korner store.
"We want to let people know that we're here in the community and that we're here to serve," said church member David Ham as he pumped gasoline.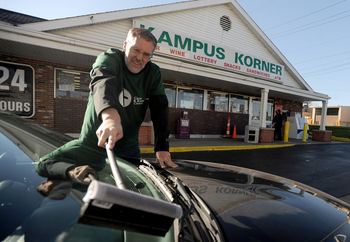 Angela J. Cesere | AnnArbor.com
"I'm a runner," said 14-year-old church volunteer
Angela Knickelbein
. "We're inviting people to come and stop by our church for cider and donuts."
Customers received a card from church members showing its location and the times of its Sunday services.
"I was at work and my neighbor texted me about the gas prices," said Ypsilanti resident Shonda Gibbs, who planned to stop by the church."
Other customers were less inclined to visit the church.
"I was out of gas and decided to stop," said Nancy Buckman of Ann Arbor. "I hadn't heard of the church and probably won't be stopping by."
"Some people have asked for prayers right here," said Paul Knickelbein, an administrator at Cross and Resurrection Lutheran Church. "Everybody's been real positive and thankful. In today's economy, people are struggling, and $9 off gas makes a difference."
"It's great to be able to give back to the community," said Hussein Hamid, manager of Kampus Korner. "It is an honor for the church to select us to be their partner. This is perfect timing. There is so much negativity, and this is a positive message."
Hamid said that business was way up compared to most Saturday mornings and that customers were very happy.