Posted on
Thu, Apr 8, 2010 : 2:40 p.m.
El Chupacabra or a mangy animal seen in Ypsilanti Township?
By Juliana Keeping
The feedback from yesterday's investigation into chupacabras - storied dog-beast hybrids that suck the blood of goats - included warnings of a government conspiracy and pictures of a suspected chupacabra in Washtenaw County.
The fact that a University of Michigan mammal expert confirmed chupacabras are really just animals rendered hairless and creepy-looking by a bad case of mange - like coyotes or feral dogs - wasn't enough to dissuade some readers.
A number of readers bucked science in favor of the unexplained. Chupacabras and Bigfoot - not to mention the Yeti, they warned, are no laughing matter.
One man e-mailed to say AnnArbor.com was stonewalled by the state Department of Natural Resources.
Another sent pictures.
Jeff Allen, an Ypsilanti Township resident and the director of residential services for the township, pulled over on Bridge Road in the summer of 2008 to snap pictures of a strange-looking animal coming out of the parks along Ford Lake to snack on some roadkill.
"I got pretty close to it," Allen said.
He wouldn't call it El Chupacabra. He made some calls and was told the animal likely had mange, a parasitic disease that attacks furry animals' hair follicles.
"It looks like a fox or a coyote," Allen guessed.
Check out the picture, take our poll below and tell us what you think.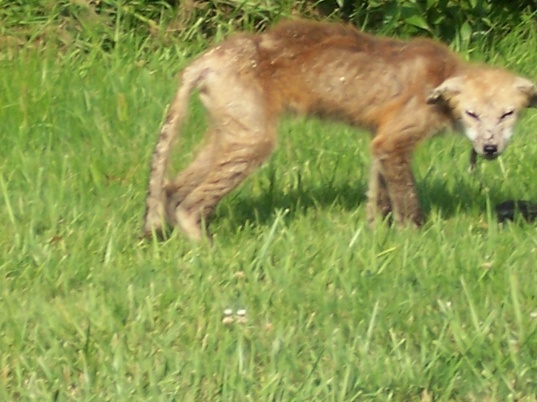 Update: Another reader just sent in a photo she took of a mangy-looking animal in Ypsilanti Township. She said it was taken in May 2008 in the Greene Farms subdivision off Whittaker Road. Check it out: